Mostly Free and Fun Things to do with Kids This Weekend in CT Dec. 8-9: Holiday Lights, Christmas Festivals and Hanukkah Events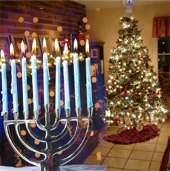 This past weekend my family headed out for our annual tradition of cutting down our Christmas Tree.  We've been cutting down our own tree for the past four years.  I must confess that I was intimidated by the process the first time we set out to try it.  When I pictured heading out with two young children and a saw to cut down a nine foot tree, I imagined disaster.  But it has proved to be one of my favorite family events and is not quite as challenging as I had imagined.  If you're considering cutting down your own tree this year we've got the scoop on some great farms in Litchfield County,  Hartford County and Fairfield County. For all things Holiday, including light shows, events, entertainment and so much more, make sure to check out our CT Holiday Fun Guide.
Don't miss our Biggest Holiday Giveaway! Every day for the next two weeks, we're giving away a different great prize. Today's prize is a $150 to spend on Customized Holiday Cards at Minted, where you can design and order cool, fun holiday cards. Click here to visit our Biggest Holiday Giveaway page and enter to win. And check back each day for more prizes. Happy Holidays!
Governor Dannel P. Malloy and First Lady Cathy Malloy are inviting Connecticut residents to the Annual Holiday Open House and tour of the Governor's residence in Hartford.  There will be entertainment, refreshments and visits with Santa.  The event is free, but visitors are encouraged to bring a new unwrapped toy for the Toys For Tots Program.
Friday evening the Mystic Aquarium will be transformed into a winter wonderland for their Festival of Lights.  Admission is free with a non-perishable food item donation. 
There are several events where you can treat the family to a special holiday breakfast this weekend.  Have  Pancakes With Santa in Kent, Breakfast with Santa at the Litchfield Inn, or Breakfast With Frosty and Friends at Bridgeport's Beardsley Zoo.  If you're still looking to get that perfect holiday card photo stop by the zoo's Tropical Holiday Greenhouse for a beautiful photo backdrop and an opportunity for the kids to make some holiday crafts to take home.
Children can write letters to Santa, make crafts and get pictures with the big guy himself at the free  Christmas Town Festival in Bethlehem on Saturday.  The event also includes a colonial village, bell choir, craft sale and hayrides.  And while you're in town you can mail your Christmas cards at the post office. Many families find it fun to have their holiday cards bear the Bethlehem postmark. You can also visit the Regina Laudis Abbey Creche after reading about our visit with the kids.
Hop aboard the train to Toyland at Santa's Railyard in Danbury this weekend and next.  Ride a vintage train and visit with Santa.  Contact the Danbury Rail Museum to reserve tickets.
Saturday marks the first day of Hanukkah and there are many ways for families to celebrate around the state this weekend.   Saturday will be the first Chanukah Lighting at the Mandell JCC in West Hartford.  There will be a family friendly Hanukkah Celebration at the Congregation Beth El in Fairfield on Saturday evening and at Chanukah at Blue Back Square in West Hartford on Sunday. Kids age 5-12  can take a Hanukkah Cooking Class at Stew Leonard's in Newington where they will learn how to make Matzoh Ball Soup and Rugelach from scratch (registration is required).  The Stew Leonard's Norwalk store will hold their free Menorah Lighting Celebration on Monday evening.
Also this weekend are Free Family Days at the Oliver Wolcott Library in Litchfield, the Wadsworth Museum of Art in Hartford and the Bellarmine Art Museum in Fairfield.
While you're out doing your holiday shopping consider picking up a donation for a child in need.  There will be collections in Canton, Kent, and  Rowayton this weekend.
Our event calendar is filled with additional events for your family.  You can like us on Facebook or follow us on Twitter and Pinterest for more information and fun giveaways.
We hope all of you have a beautiful December weekend and wish our Jewish readers a very Happy Hanukkah!