2012 Holiday Shows in Central Connecticut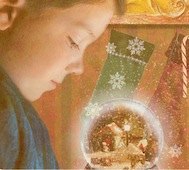 I don't know about you, but I can remember getting all gussied up as a kid for my great aunt to take us to see the Nutcracker.  It's just one of many memories that combine to define the Christmas season for me.  Understandably, not all kids are into dancing sugarplums, but that doesn't mean there isn't a special night at the theater in store for them, too.  This year, central Connecticut has everything from a Handel's Messiah Sing-Along to a kooky Christmas beauty pageant -- ample material to make new family memories!
 
A Child's Christmas In Wales
This nostalgic show at the National Theatre of the Deaf will be performed in spoken word and American Sign Language.  Based on the Dylan Thomas poem about this magic-filled time of year -- crazy family, snowball fights, serene moments -- promoters say it's 'poetry for the eyes and heart.'  Runs Dec. 6 through 16: Saturday and Sunday at 2pm; Thursday, Friday and Saturday at 7:30 p.m. Adults $30, Students $20 students, Children $15.
Ivoryton Playhouse
103 Main St., Ivoryton, CT
860-767-7318
The Nutcracker
Students of the New Haven ballet put on the quintissential holiday show.  Tickets at the historic Shubert Theater run from $18 on up to $53.  Performances: Friday, Dec. 7, 7pm; Saturday, December 8, 1pm & 5:30pm; Sunday, December 9, 1pm.
Shubert Theater
247 College St., New Haven, CT 06510
800-228-6622
Max & Ruby: Nutcracker Suite 2012
A cartoon favorite covers this Christmas classic for one performance only. Tuesday, Dec. 11, at 2pm. Ticket prices range from $25-45. 
Oakdale Theatre
95 S. Turnpike Road, Wallingford, CT
203-265-1501
Tickets: 877-686-5366 or www.livenation.com.
Living Nativity
Experience the story of Christmas in a country setting, surrounded by luminaries and local farm animals.  The church will serve refreshments afterwards.  Admission is free, but you can bring a donation of canned goods for the Guilford Food Bank.  December 16, 5-7pm.
St. John's Episcopal Church
129 Ledge Hill Rd., North Guilford, CT 06437
203-457-1094
MessiahSing
This one's interactive, folks!  Professional soloists will guide you and your brood through Handel's Messiah on Sunday, Dec. 19 at 4pm.  Bring your Messiah Scores if you have them (ha!), or they will be provided. The two-hour performance is $10/ticket.
The Katharine Hepburn Cultural Art Center
300 Main St., Old Saybrook, CT
860-510-0473
Glitz
Ya gotta have a wacky one in the bunch, and this is it.  (It's also technically in Fairfield County, but again, the wacky factor...)  This offbeat children's musical crosses 'A Christmas Carol' with 'Toddlers & Tiaras', while getting at the heart of the holiday season.  This worldwide premiere is happening at the Center for the Arts in Milford.  Tickets are $16; the show runs from Dec. 7-22.
Center for the Arts
40 Railroad Ave., Milford, CT
203-937-6206