Holiday Happenings in Fairfield County, CT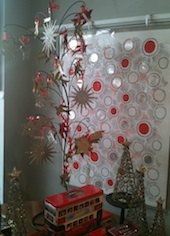 One of the wonderful things about any early Thanksgiving?  An extra long Christmas and Hanukkah season!  So finish up that leftover turkey, and come on out to celebrate the holidays in Fairfield County, CT.
Visit with Santa's Reindeer, Greenwich, CT
Greenwich florist McArdle's is hosting some of Santa's reindeer (live reindeer – really!) right up through December 23rd.  Come visit them – feeding times are daily at 9 and 4.  48 Arch Street, Greenwich, CT, 06830, 203.661.5600
Annual Holiday Express Train Show, Fairfield, CT
The Fairfield Museum opened its annual holiday train show on November 30th.  The display will be up for the holiday season, and features a nostalgic set of model trains winding through festive holiday scenery. Tickets to the museum will run you $5/adult, and $3/student.
The Museum is also offering a candy house workshop on December 8th.  The event is $15/house, and space is limited so call ahead to reserve a space.  370 Beach Road, Fairfield, CT 06824, 203.259.1598
Fairfield Christmas Tree Festival, Fairfield, CT
Visit the Burr Homestead in Fairfield between Friday, November 30th and Sunday, December 2nd to enjoy the Christmas Tree Festival.  General admissions tickets are $10/adult, $5/child.  Admission includes a visit with Santa as well as admittance to the holiday bazaar and holiday decorations sale.  On Friday, November 30th, you can also attend the "Sharing is Caring" children's event.  The $20 entrance fee includes dinner, a visit with Santa, a magic show, and arts and crafts.  Burr Homestead, 739 Old Post Road, Fairfield, CT, 06824
Gingerbread House Exhibition, Stamford, CT
Visit the Stamford Museum and Nature Center to view the annual gingerbread house display.  The exhibition runs from November 17th – January 27th, and is included in the general admission price ($10/adult, $5/child).  39 Scofieldtown Road, Stamford, CT, 06903, 203.322.1646
Menorah Lighting, Norwalk, CT
Come to Stew Leonard's in Norwalk on December 10th at 5pm for the lighting of the Hanukkah menorah.   The 18 foot menorah will be lit by Rabbi Hecht of Beth Israel, and the lighting will be be followed by traditional songs, dances and refreshments.  100 Westport Avenue, Norwalk, CT, 06851, 203. 847.7214