More Cut-Your-Own Christmas Tree Farms in Fairfield County, CT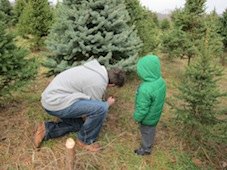 Growing up, there were four kids in our family, and little could ice the bickering like freezing temps, hot cocoa and pursuit of the perfect tree.  It was one of the best family outings of the year.  There are several Christmas tree farms in Fairfield County, large and small, and the owners have equally fond memories of the many families who come back to them year after year.
We did a popular post last year on tree farms and have expanded it to include farms listed with their amenities, and even noted a couple that have either hung up their handsaws for good, or taken a hiatus because they're in a 'regrowth' stage -- we'd hate for you to show up and have your holiday tree dreams dashed!  Altogether now: "TIMBERRRRRRR!"
Sam's Tree Farm
This place gets the prize for best deal around.  $25 is all you'll pay for any size tree -- the catch is you can't be too picky about your variety.  Sam's only sells White or Blue Spruces.  The 12-acre farm has been a family affair for 55 years -- the Nezveskys will help you drag, bale and tether your tree.  They take just cash or check, have restrooms available, and say dogs are more than welcome.
Cut-Your-Own Varieties: White or Blue Spruces
Hours: Friday, Saturday and Sunday, 9 am to 4pm
138 Huntingtown Road, Newtown, CT 06470
203-426-2170
Paproski's Tree Farm
I haven't been there, but Paproski's touts beautiful views, along with several acres of trees.  Add in hot cider, cookies, and a small petting zoo, and you've got more than you need!  Saws, restrooms and baling available, too.  All cut-your-own are $50; pre-cuts will be $55 and up.
Cut-Your-Own Varieties: Douglas Fir; White, Blue & Norway Spruces, PLUS several cathedral-size trees
Pre-cut Varieties:  White Pine, Douglas & Frasier Firs
Hours: through December 24th
Weekends 9am - Dusk
Weekdays 1pm - Dusk
5 Hattertown Road, Newtown, CT 06470
203-426-5487
Everett's Corner Tree Farm
Everett's has been around since 1954, and has all the basic amenities: hauling, baling, twine and restrooms.  However, varieties are limited and they do NOT sell pre-cut trees.  Trees are $50, including tax.
Cut-Your-Own Varieties: White & Blue Spruces, & White Pine
Hours: Dec. 1 & 2 and Dec. 8 & 9, 9am - 4:15
136 Sherwood Road (59 @ Sherwood Rd.), Easton, CT 06612
203-268-2508
Maple Row Tree Farm
Maple Row is one of the first places you'll hear about if you're new to the area.  They're an institution, and a well-oiled operation sitting on 200 sprawling acres in Easton.  Saws, hauling, baling, warming huts and restrooms are all available.  They also sell refreshments (cash only/weekends only), wreaths and roping.  Prices are a little steeper here at $64/tree including tax, but they are discounted on weekdays to $58.  Pre-cut trees start at $64 ($6 discount on weekdays), and run up to 12 feet tall.  One other bonus: Maple Row accepts credit cards (Visa, MC and Discover).
Cut-Your-Own Varieties: Canaan, Douglas, Fraser & Concolor Firs; Blue, White & Norway Spruces; White Pine
Pre-cut Varieties (all cut within a week of our opening): Douglas & Balsam Firs, Blue & White Spruces
Hours: 9am - 4:30pm daily
555 North Park Ave., Easton, CT 06612
203-261-9577
Fairview Tree Farm
Fairview is just a stone's throw from one of the biggest Christmas tree farms around, but you might find this fits your family's tastes a little better.  Fairview is a fourth generation farm offering full-service: hauling, baling, and tethering, PLUS a Christmas shop, refreshments and hayrides from Santa himself on weekends from 1-3pm.  You can even book children's parties with Mrs. Claus. $49 any size, cut your own. Pre-cut sizes run 4'-12'; prices vary.
Cut-Your-Own Varieties:Blue, White & Serbian Spruces, Fraser, Douglas & Con Color Firs
Pre-cut Varieties: Frasier and Douglas Firs, Blue Spruce as well as live balled and burlap trees.
Hours: Open daily through December 23, 8:30am - 5:15pm;
Thursdays until 7pm
486 Walnut Tree Hill Road, Shelton, CT 06484.  
203-944-9090
Bare Plain Farm
The Wells family farmers settled in Shelton in 1758, but they've only been growing Christmas trees for 25 of those many years.  Field trees are $50 including tax, and pre-cuts are $60.
Varieties:Blue Spruce, Douglas & Frasier Firs, White Pine
Hours: call for hours
109 Old Mill Road, Shelton, CT 06484
203-929-3966
Jones Family Farms
Aside from Maple Row, this is the other massive Christmas tree operation in the county you're bound to hear about.  It's mostly soup-to-nuts: 200 acres of cut-your-own trees, pre-cuts from 2'-15', wreaths, garlands, bows, wine tasting, a gift shop, and refreshments in the Christmas Canteen ... but there are a couple things Jones doesn't do: credit cards on cut-your-own trees, or hauling the tree out of the field, so be sure to BRING A TARP to drag out your prize.  Saws, baling and twine available.  Cut-Your-Own are $63 including tax, and they throw in a pewter ornament.  Pre-cut prices vary, as they're sold by the foot.
Varieties: Blue Spruce, Fraser, Douglas, White & Balsam Firs, White Pine
Hours:  Open daily through Dec. 24, 9am - 5:30pm (Christmas Eve until 4 PM.) Cut-your-own, please arrive at the farm by 4 PM.
606 Walnut Tree HIill Road, Shelton, CT 06484
203-929-8425
H. Smith Richardson Tree Farm
This 12-acre plantation is part of a 75-acre CT Audubon Sanctuary, so you may catch sight of several species of winter birds while you're out.  The terrain is flat for those with difficulties getting around, and a portion of sales goes to Audubon Conservation and Education programs.  Saws and baling are available, but no restrooms.  They also offer wreaths, roping, swags, tree stands and firewood.
Cut-Your-Own Varieties: Douglas Fir; White Spruce; Blue Spruce;
Pre-cut Varieties: Fraser Fir; Caanan Fir; Balsam Fir
Hours: through Dec. 23, Tuesday - Friday Noon - 4pm;
Saturday and Sundays 10am - 4pm; Closed Mondays
Sasco Creek Road, Westport, CT 06880
203-259-6305
203-623-0646 - cell at farm
Paradise Tree Farm
After dark?  Come anyway.  Care about the environment?  All trees are organic and hand-pruned.  Want to tag your tree and pick it up on Christmas?  Done.  Paradise also has an assortment of tall trees and will prune your tree to your liking.   Saws, baling, restrooms ... and Santa, too!  Wreaths and roping are done by order, and some wreaths are available on display.  Cash or check only.
Cut-Your-Own Varieties: Blue, Norway & White Spruces; Concolor & Balsam Firs
Pre-cut Varieties:  Only if tagged, and you call, letting us know you will be here to pick it up at a certain time.
Hours: through Christmas, 9am - Dark (after dark welcome but bring a flashlight)!!
224 Lonetown Road, Redding, CT 06896
203-938-2490
Bob's Tree Farm
Bob's is no frills -- a guy with three acres, who will help you load up your tree of choice.  $55 any size.
Varieties: Douglas & Concolor Firs; White & Blue Spruces
Hours:  Saturdays & Sundays in December, 9am - 4pm
66 Turkey Plain Road, Rt. 53, Bethel, CT 06801
203-241-3450
Warrup's
Warrup's claims to have 'natural-looking trees ... not groomed to within an inch of their lives.'  They are also organically grown.  You can cut one down yourself or have them do it.
Varieties: White & Blue Spruces
Hours: call for hours
11 John Read Rd., Redding, CT
203-938-9403