Mostly Free and Fun Things to Do With Kids In CT This Weekend December 22-23: Trains, Carols and The Winter Solstice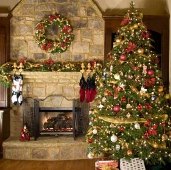 I know I am not alone as I hug my children a little tighter this holiday season.  As parents our hearts may be heavy but our children are counting down the days until Christmas arrives.  One of the most important things we can do right now is to be fully present with our children and maintain a sense of routine and normalcy in their lives.  This week, that includes moving forward with our holiday plans, traditions and fun family outings.
As Christmas approaches, our Holiday Fun Guide is filled with special ideas for your family. If you'd like to do something for the Sandy Hook Elementary School and Newtown community please see this list we've compiled which includes a request from the Sandy Hook PTA. They are asking for people to send paper snowflakes to be used for decoration in the new temporary school.
You can celebrate the coming of winter and the shortest night of the year on Friday with a Winter Solstice Night Hike at the Stamford Museum and Nature Center.  The Audubon Center of Glastonbury will also celebrate the Winter Solstice with music, stories and a bonfire.
Children love trains and Christmastime is a wonderful time to experience them in so many ways.  We've put together some information on Holiday Trains in Connecticut for you.  In addition, your family may want to consider visiting the Holiday Train Show at the Connecticut River Museum in Essex, the exhibition at the Eli Whitney Museum in Hamden, or the Holiday Train Display at CT Cellar Savers in Portland .   All Aboard with Robert Probert and Friends at the Stamford Museum and Nature Center offers visitors a chance to see an imaginative Lego train exhibition. 
Consider bundling up to board a Winter Creature Cruise at the Norwalk Maritime Aquarium.  Adults and children at least 42 inches tall will set sail and learn about how the Long Island Sound's animal population changes throughout the colder months and will view seals as they prepare for their winter on the Sound.
The Sherman Playhouse presents an adaptation of the classic fairy tale Cinderella complete with songs, jokes and lots of audience participation that will delight the entire family.
On Sunday visitors to the Mystic Seaport Museum will receive free admission all day with the donation of a non-perishable food item.  Throughout the day there will be free holiday themed planetarium shows and a Community Carol SIng in the afternoon.
The kids will love a Carriage Ride through the charming town of Kent.  Rides will be offered on Sunday between 12pm and 3pm beginning at the Kent Greenhouse and Gardens.  While you're in town stroll through the small shops to pick up gifts for family and friends and with each purchase (at participating merchants) you will be entered into a shopping spree giveaway.
At Winterfest in Bushnell Park this weekend, not only can you enjoy free ice skating, but also Gingerbread House Decorating and a Visit from Santa at the carousel. 
Make fondue part of your family's Christmas Eve tradition while helping a worthy Cause. At Christmas Eve for the Kids, the Darien Melting Pot's staff will donate their wages and tips to the St. Jude Children's Research Hospital Thanks and Giving Campaign. 
Whether you're not celebrating on the 25th, want a day off from cooking, or maybe need a back up plan if your meal doesn't work out quite the way you expected, we have a list of Restaurants that are open on Christmas Day in Fairfield County as well as in Litchfield County.
Like us on Facebook and follow us on Twitter and Pinterest for upcoming giveaway information and updated events  Be sure to check our event calendar often as we're always adding new events for you to enjoy.
We wish you a very Merry Christmas with your family and friends.