Restaurants for the Family During the Holidays (Litchfield County)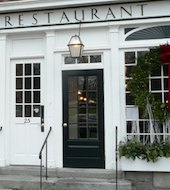 Over the holiday break you may desire a reprieve from the kitchen or just a nice night out with the family. We've rounded up some of the more popular restaurants in Litchfield County that are suitable for families. Some will be serving up special holiday menus and others will just continue with their regular menu. Don't forget to call for reservations! We've also listed restaurants open on Christmas day in Fairfield County.
G.W. Tavern
If you and your kids like George Washington you'll have to have a meal here. A popular locals restaurant and great for families, the food is good and satisfying. The casual restaurant  is decked out with G.W. memorabilia everywhere and has weekly specials as well as the typical children's menu.
20 Bee Brook Road Washington Depot, CT 06794
(860) 868-6633
Hopkins Inn
Everyone loves the view overlooking beautiful Lake Waramaug. The food has an Austrian slant and the waitstaff dresses up in Austrian garbe. Food is good and there is room for the whole family, including aunts, uncles and cousins.
22 Hopkins Road  New Preston/Warren, CT 06777
(860) 868-7295
Tivoli Restaurant
Good Italian family restaurant overlooking the New Milford Green. Bustling atmosphere with typical Italian fare such as chicken parmesan and thin crust pizzas.
7 Main Street, New Milford
(860) 210-9065
Community Table
The highest quality locally grown ingredients are prepared into the most delectable dishes. The contemporary Scandinavian atmosphere lends itself to this sophisticated menu. Best for adventurous eaters looking for a fine dining experience. Now taking reservations. Closed 12/23-12/26.
223 Litchfield Turnpike, Washington, CT (860) 868-9354
White Horse Country Pub
The White Horse is an English style pub. Great atmosphere. Large bar yet there is a separate dining room for families. Food is generous in size and good. A popular and busy restaurant.
258 New Milford Turnpike  New Preston, CT 06777
(860) 868-1496
The Mayflower Grace
This is where you go if you want to have a fine dining experience. Probably best suited for older children. Luxurious interior and incredible food. Expensive.
118 Woodbury Road, Route 47, Washington, CT 06793
(860) 868-9466
da Capo Restaurant
An Italian restaurant with brick oven pizzas, pastas and salads. A Litchfield favorite. Make sure to make a reservation.
625 Torrington Road  Litchfield, CT 06759-2609
(860) 482-6246
The Village Restaurant
Scallops, Gnocchi, beef brisket are a few of the items offered at this popular Litchfield restaurant. They can book private dinners for 20 or more.
25 West Street Litchfield, CT (860) 567-8307
Winvian
A high end boutique hotel/inn. Winvian also has provides an incredible dining experience. This is a place for a fancy family gathering. Probably best suited for older children.
155 Alain White Road  Morris, CT 06763
(860) 567-9600
Fife and Drum
A Kent staple since 1973, continental cuisine, homey and comfortable comes with a treat as the owner, an accomplished pianist, plays tunes for his customers. They have rooms that can be reserved for your entire clan if so needed.
53 North Main Street, Kent, CT 06757
(860)927.3509
Originally published 11/2/11.