Restaurants Open on Christmas Day in Connecticut (Fairfield County)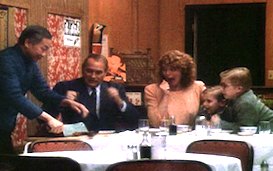 We haven't hosted all that many Christmases, so I'm feeling ambitious this year --  I've already googled a Figgy Pudding recipe, and heck, I may even go for goose.  But, give it 5-10 years, and I might be looking to farm this chateaubriand thing out.  I won't be alone.  For years, there have been a handful of fantastic Fairfield County restaurants open Christmas Day, and this year Mommy Poppins adds one more to her list -- Parallel Post in Trumbull.  Whether you want a full-on Christmas feast, burgers, or a spicy crab roll, you're in luck. God bless us, everyone!
Parallel Post, Trumbull
Parallel Post is probably open on Christmas Day by virtue of the fact it's nestled inside the Trumbull Marriott.  Stop all associations and assumptions there.  This farm-to-table's careful cuisine was conceived by Beard nominated chef Dean James Max, and doesn't disappoint.  For Christmas, they'll do a three-course prix fixe menu. Be sure to check out their creative seasonal cocktail menu, too.
180 Hawley Ln.,Trumbull, CT 06611
203-380-6380
Thali, New Canaan
I'm not sure you can get further from traditional Christmas fare than by dining on Indian food.  New Canaan's Thali restaurant offers a delicious menu of succulent foods.  Don't miss their Tandoor Grilled Chicken Kababs…delicious!  Also open on Christmas Day is Ridgefield's Thali restaurant.
87 Main Street, New Canaan, CT 06840
203.972.8332
Hunan Cafe, Wilton, CT
In the mood for dumplings?  Try Wilton's Hunan Cafe, where you will find delicious Chinese eats.  The egg rolls are delicious, and the atmosphere is inviting. Open Christmas Day from 11am-10pm.  Ho, ho, ho!
101 Old Ridgefield Road, Wilton, CT 06897
203.761.8998
Abis,  Greenwich, CT
Serving up traditional Japanese fare - including sushi- is Abis in Greenwich. Hibachi chicken and spring rolls may be just what I need to follow all those Christmas cookies!  Open Christmas Day from 11:30-9:30.
381 Greenwich Avenue, Greenwich, CT, 06830
203.862.9100
BJ Ryan's Pub, Norwalk, CT
Sometimes you just want a burger.  So try Norwalk's BJ Ryan Pub.  Have some vegetarians with you?  BJ Ryan's has plenty of options including tuna tacos and mushroom ravioli to tempt them as well.  Open Christmas Day from 4pm – 1am.
57 Main Street, Norwalk, CT 06851
203.866.7926
Bernard's, Ridgefield
If you're looking for an elegant and delectable Christmas dinner, your search is over.  Bernard's of Ridgefield features the talents of two classically trained French chefs; these two know how to pull together a Christmas dinner.  Potato, leek, and truffle soup with truffle dumplings to start…is mine the only mouth watering?  Open Christmas Day from 1pm-5pm.
20 West Lane, Rte 35, Ridgefield, CT 06877
203.438.8282
A last thought on Christmas Day eats?  Check with your favorite local Chinese, Japanese, or Indian restaurants.   If the proprietors don't celebrate Christmas, they may keep their restaurants open.  Good luck, and good eating!
 
Originally published 12/4/2011.