Mostly Free and Fun Things to do in CT with Kids This Weekend December 29-31: Kwanzaa, New Year's, Shrek & Sea Lions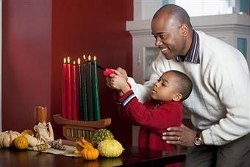 The latter part of 2012 has been difficult for Nutmeggers. The tragedy in Newtown and Hurricane Sandy's wrath has left many of us picking up the pieces of our lives, and others searching for ways to help those in need. For suggestions, check out our post on Ways to Help Sandy Hook Elementary School and the Newtown Community. 
As we turn to 2013, let us all be grateful for our blessings and hope for a happy, healthy and prosperous new year. We at Mommy Poppins CT are thankful for our readers and will continue being your top resource for events around the state. 
New Year's Eve is Monday, and we have you covered on ideas for Fun in Fairfield County. If you are looking for a special restaurant during the holidays we've listed some of our favorites in Litchfield County.
The 24th Annual
First Night Hartford
 holds two fireworks displays (6pm and midnight) in Bushnell Park. Many downtown venues will host various exhibits, musical acts and artists in a safe, alcohol-free environment.  The kids will love the ultra violet puppet show, ice skating, safari rides, dance party and much more. 
First Night Danbury starts with a 5K race and continues with a vibrant fair atmosphere downtown. Walk to all the sites and experience belly dancing, stilt walkers, comedians, live music and numerous children's activities. 
Curious about what 2013 holds for you? Get your fortune read at First Night Westport. You'll also see magicians, face painters and world-class dancers. Listen to music ranging from gospel to rock and roll to jazz and sample great food. The kids will love riding on a horse-drawn carriage. 
Middletown's Midnight on Main boasts over 100 performers in a four-block radius. Kids can try Salsa or Belly Dancing, enter a Chess tournament, play ping pong or roller skate. 6pm rooftop fireworks are early enough so the young ones can get to bed on time.  
Speaking of little children, Niantic's Children's Museum of Southeastern CT will have a Countdown to Noon event. This is a fun way to ring in the new year without staying out past dark. Games, songs and traditions will be on hand from 10am until Noon. Another daytime festival worth a visit is Imagine Nation's Celebration Around the World in Bristol. Enjoy dancing, making noisemakers and hats, and a ball drop at noon. 
The seven-day festival of Kwanzaa is underway, ending January 1. The holiday honors African-American heritage and cultures.  On Saturday, Trinity-On-Main in New Britain hosts an amazing show including African drumming, dancing, Gospel, Hip Hop, Soul, Jazz and acting. Even if you don't celebrate Kwanzaa, your family will be entertained by the variety of music and performance. 
"Shrek the Musical" has been lauded for great new songs, laughs and dancing for the entire family. Check it out at New Haven's Shubert Theatre this weekend. 
Mystic Aquarium's Winter Waterland continues until January 1. Enjoy marine animals in festive holiday decor, including Christmas, Hanukkah, and Kwanzaa. You'll see diving elves, live music, crafts and The Polar Express in 4-D, that will invoke all your senses. 
Generations of children and adults alike have adored the uniqueness and intricacy of dollhouses. Gunn Memorial Library and Museum in Washington will hold a Dollhouse Workshop, where you can create your own from a simple shoebox. You can also visit the museum's exhibit which features over fifty handcrafted houses covering three centuries.  
If a winter vacation isn't in the budget this year, head to the White Memorial Conservation Center in Litchfield to view the documentary "Christmas in Yellowstone." This film captures the stunning winter beauty of America's first national park, and will provide serenity for you and your family as you say goodbye to 2012. 
Keep checking our event calendar often as we're always adding things to do. Like us on Facebook and follow us on Twitter and Pinterest for ideas and giveaways.   
Thank you again to our readers for your support this year. All the best to your family this weekend and in the year ahead.