20 Things to Do with Kids This Winter in Connecticut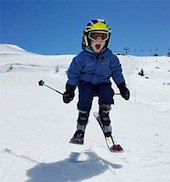 Sometimes the backyard or local park just isn't cutting it any longer and we need a diversion. Winter brings snowy outdoor fun as well as active and creative indoor play. Here's a list of 20 things to do this winter in CT with kids. You can find even more ideas in our CT Winter Fun Guide.
1. Learn how maple syrup was discovered and see how it is made at one of CT's many sugarhouses.
2. Visit one of CT's wonderful museums.
3. Sled down the huge hills at Page Park.
4. Take the kids skating outdoors! When it gets colder, check in with some town recreation departments to learn when and where local ponds are open for skating: until then, head on over to Wesport's outdoor P.A.L. rink.
5. Ski the slopes at one of six CT ski and snowboard resorts.
6. Visit Sweet Rexie's Candy Shoppe in Fairfield for an afternoon of whimsy and sugar.
7. Take the train into NYC – the ride can be a treat for little ones! A tip – hop on at an "end" station like New Canaan where you'll have no problem getting a seat.
8. Lace up your skates and enjoy a day at Newington Veteran's Memorial Rink.
9. Splash about at CoCo Key Indoor Water Resort in Waterbury.
10. Get hot cocoa and a salted chocolate caramel at Kent Coffee and Chocolate in Kent.
11. Watch ski jumpers fly into the sky at the annual Salisbury Ski jumping event.
12. Take a look at restored carrousel horses in Bristol at the The New England Carousel Museum.
13. Gorge yourselves on beautiful candy at the quaint Sweets Shop in New Preston.
14. Check out the latest movies at the Art Deco Bank Street movie theater in New Milford and then take a walk across the street to a great toy store - PLAY.
15. Go ice skating during open skate at The Gunnery, Kent School or South Kent School.
16. Try out cross country skiing with the family.
17. Go sledding down one of these hills in Harford.
18. Spend some time rock climbing and jumping in the trampoline room in the Adventure Center at Chelsea Piers CT.
19. Take your 4-7 year old to a yoga class at the Woodbury Yoga Centre.
20. Dig for gold at the Dinosaur Place in Oakdale and learn lots about our extinct friends.
Originally published 12/2013.