Maple Sugaring Season is Here in Connecticut (Litchfield County)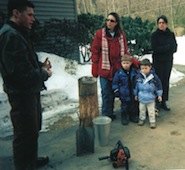 Hundreds of sugarhouses all across the state are working away for hours evaporating clear watery sap into golden syrup. The traditional maple sugaring season extends from early February until late March, depending greatly on the weather. Freezing nights and warm, sunny days are necessary to provide good sap yields. Did you know that it takes 40 parts maple sap to make 1 part maple syrup (10 gallons sap to make 1 quart syrup). That's why the good stuff ain't cheap!
Loads of sugar houses are having open houses and demonstrations on how maple syrup was discovered by Native Americans. You can even read here about one Litchfield County family's own home maple syruping experience. For Hartford County Sugar Houses go to this link. Here's a quick list of a few of the Litchfield County Sugar Houses that are great to visit:
Lamothe's Sugar House
​Lamothe has sugar house tours going on each weekend mid February until the end of March from  1-4:30pm. Besides syrup they sell honey, kettle corn, pancake mix and many other yummy goodies. They offer free coffee and hot apple cider to keep you warm.
Lamothe's Sugar House
89 Stone Road,
Burlington, CT
860.675.5043
Brookside Farm II
Open for visits mid-February through March. Maple syrup sold year round. Please call ahead. This is a family run small operation, they don't do tours but will personally come out and explain a bit about the syrup and help you choose the right grade for you.
Kay Carroll and Mark Harran
79 East Chestnut Hill Rd.,
Litchfield, CT 06759
860-567-3805 or 860-567-3890
Flanders Nature Center
Flanders has a lovely sugar house and is open for tours. They explain how maple syrup was first
discovered by Native Americans and how the making of it has evolved over the years. Lots of maple goodies in their sugar house for sale as well as other things any child will adore.
Sugar House at Flanders Nature Center and Land Trust
5 Church Hill Road,
Woodbury, CT
203-263-3711, ext. 12
Brothers and Sons Sugarhouse
Maple Syrup in all sizes. Maple candy, maple cream, maple peanuts and granulated maple sugar. Open year round. Watch maple syrup being made during February and March. Free tours. Sugarhouse is accessible to the handicapped. Groups welcome. Please call ahead.
The Schoonmaker Family
998 Saw Mill Hill Rd.,
Torrington, CT 06790
860-489-2719
Sullivan Farm
For the next 5 weeks, through the end of March, the staff and students at Sullivan Farm will be tapping over 1600 trees and producing some of Connecticut's finest Maple Syrup.  If you would like to drop by, please don't hesitate.  Watch for the rising steam from the Sugar House, or call.
140 Park Lane
New Milford, CT, 06776
(860) 354-0047
Hilljack Sugar Shack
Father and son team provide free tours to the public during the sugaring season. They started the business 18 years ago when son Jesse was only 8.
Hillside Sugar Shack
74 Wilson Rd
Litchfield, CT 06759
860.482.6052
Originally published 2/24/12.