Art Classes for Kids in CT (Fairfield County)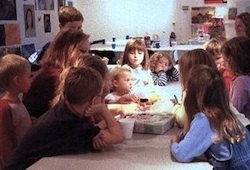 Oh, how my kids love art. How they love to squeeze every last drop of paint from a tube and smear it all over the walls. How they love to grind whole packages of clay right into the carpet. And how they really love to glue their paper maiche directly to the dining table. All reasons why I really, really love having them do artwork any place other than my home! Here are some great places in Fairfield County where your young artists can create masterpieces without trashing your house:
JAM, South Norwalk
We love the attitude at JAM; "mistakes encouraged".  This is a place to make a beautiful, creative mess – no one here will tell you to color in the lines!  Classes and birthday parties are available; an annual membership cuts the cost of both.
140 Water Street, South Norwalk, CT 06854 203.642.3090
All About Art, Monroe
In Monroe, All About Art offers classes for kids 2 and up, as well as a drop in ceramic studio.  Memberships are available, and birthday parties can be arranged.
641 Main Street, Monroe, CT 06468 203.452.8801
Greenmoon Art, Rowayton
Greenmoon Art offers a variety of classes for children 18 months and up in their 3 different locations: Rowayton, Greenwich, and New Canaan.  The teachers focus on creating a creative and rewarding experience for your artist...lots of fun, lots of mess!
140 Rowayton Avenue, Rowayton, CT 06853 203.810.4001
The Art Spot, Danbury
The Art Spot in Danbury offers a multitude of different courses for both children and adults.  Courses offered include animation, drawing, and arts and science.
88 Sugar Hollow Road, Danbury, CT 06810 203.791.8244
Silvermine Art Center, New Canaan
The Silvermine Art Center in New Canaan has something for just about everyone.  Classes for kids in all sorts of mediums are available, as well as summer camps, private parties and events.  And the gallery is always fun to peruse!
1037 Silvermine Road, New Canaan, CT 06840 203.966.9700
Splatterbox, Westport
Splatterbox was started by a couple that met in Art & Design school.  Projects of every color and stripe.  Classes can be purchased in packages to lower the average price (one is about $35).
1252 Post Rd East, Westport, CT 06880 203.349.5508
Paint, Draw & More!, various locations
Susan Jackson, founder of Paint, Draw & More! teaches classes either at the Georgetown School of the Arts, or one of many community centers throughout Fairfield County (Fairfield, Norwalk, Newtown, Brookfield, Prospect Park, Ridgefield, Stamford, Weston, Wilton).  They offer some interesting options: printmaking, weaving, cartooning, duct tape wearables and woodworking, as well as mixed media.
25 Old Mill Road in West Redding, CT 06896 203.544.8551
The Giggling Pig, Shelton
Ah, the lovely little Giggling Pig.  Though I can't say little anymore because they keep expanding their space along 110 in Shelton.  Owner, Hannah Perry, likes to mix it up, keeping projects fresh for her repeat customers.  This place is extra awesome for its great prices, unparalleled flexibility and attention to those with special needs.
472 River Rd.,Shelton, CT 203.919.1153
Creative Kids Craft Studio, Monroe
This place takes it to the the third dimension — beyond art and onto crafts.  The kids can still paint, but they're more likely to come away with handmade castles, jewelry, treasure chests or butterfly wings.  You can join in the fun, or sip coffee and use the wi-fi.  Five classes is $67.50. OR Drop-in and pay per craft ($12-25).
292 Elm Street, #2, Monroe, Connecticut 203.590.3125
The Studio, Fairfield
Guided open studio (painting, sculpting, drawing) and pottery for all ages. $145/month for the 10-month school year/1.5hr time slot.  Pottery $190/month.
85 Mill Plain Rd., Bldg. B, Fairfield, CT 203.455.4984
Best Time Ever , Stamford
They claim your kids will have the 'Best Time Ever' any day of the year!  They also put forth a lot of effort to serving families with special needs.Pick a class (daily for toddlers), or just drop in to do the craft of the week -- purchase 5 and get the 6th free. 
633 Hope St., Stamford, CT 06907 203.614.8511
Originally written and published on 12/26/11 by Katie McKnight.