5 Family Ski Resorts in Connecticut: The Lowdown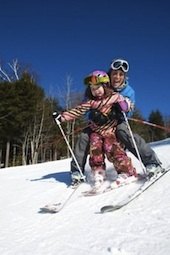 Winters in Connecticut can be much more bearable if you stay active and enjoy the outdoors. Our Winter Fun Guide has plenty of ways to do just that! Below is a comparison of five area ski resorts that are family-friendly. Tip: If you want to avoid lines head to any of these mountains FIRST thing in the morning and be pleasantly surprised. I was at Mohawk one morning and had the lodge to myself! Going on a week day is always great too. If cross country skiing is more your thing check out these recommendations in Hartford and Fairfield Counties. For even more skiing and snow sports ideas please check out our Ski and Snow Sports Guide.
1) Mohawk Mountain Ski Area in Cornwall, Connecticut has just renovated its lodge. Pros: great snow (real and homemade), well marked trails, new lifts, excellent ski school for children with extensive programming, challenging trails for adults, on-mountain restaurant. This is more of a ski experience than say Woodbury. Food is pricey but you can bring your own.
2) Ski Sundown is a small ski area located in New Hartford, Connecticut. It's half the size of Mohawk Mountain and has more beginner trails. This ski area is a great place for an intro to snow sports or to tune your skills. They have a ski school and a comfortable lodge. The terrain park is a favorite for snowboarders.
3) Mount Southington is a small family mountain with a terrain park. I haven't been there but it sounds like the lodge needs a makeover. However they get great reviews for being a friendly, not so crowded small mountain. Lessons available.
4) Ski Butternut and 5) Catamount are two other favorite areas just over the NY/ Mass borders. My boys, being the snowboarders that they are, love the snowboard terrain park at Butternut (Great Barrington, Mass). Catamount is located in Holmes, NY. Great ski school and very family friendly resort.
Summary, for family fun you can't go wrong at any of these places.
Originally published on 1/22/12.