25 MORE Free Things to Do this Summer in Connecticut (Fairfield County)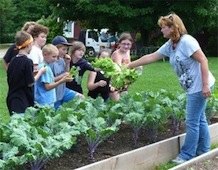 If you're wondering whether we really need to post 25 MORE free things to do with kids this summer, I'm wondering if you're really responsible for children!  Granted, beach time, bike rides and kick-the-can with the neighbors' kids are probably all they REALLY need, but I don't think any of us is too old to forget the boredom that eventually (or immediately) creeps in.  Summer is LONG.  Marathon long when you're a parent.  You know you can't trot out all your time-killing genius at once...you've got to pace yourself!   To that end, more ideas for making the summer lazy, but memorable:
How about fishing?  Of course, there's the Sound, but if your little ones would like to see what can happen with a $10 Spiderman or Barbie pole, hit up the Trumbull VFW youth fishing pond.  You'll catch some sunnies or small bass -- it'll be thrilling!
If you're after the bigger fish, head across the road to the Pequonneck River Valley State Park.  You may just reel in a nice trout or two.  And if fishing ain't your bag, enjoy the beautiful, shady hike and bike path instead.  Perfect for a hot day.  Afterwards, plan to pick up some jalepeno beans and baked potato casserole to go with what dad's grilling for dinner, at Dickey's BBQ off Main Street in Bridgeport... while you're there, the kids can treat themselves to FREE soft serve vanilla ice cream!
Music is always a good excuse to get everyone moving ... and out of the house!  For the under 5 set, check out weekly shindigs at Fairfield's Peanut Butter Jam on Sherman Green or Trumbull's Summer Tunes at Old Mine Ruins.  Fairfield Public Library will also throw down with preschoolers at Penfield Beach Paviilion on June 6th -- out-of-towners can pick up an invite/beach pass at the Main Branch.  The whole family will get a kick out of the music scene at Captain's Cove Seaport in Bridgeport.  This summer they've added Saturday afternoon entertainment, and while strolling the boardwalk, you'll feel like you've been teleported to Key West or something!
Even in summer, kids need a little serenity, and librarians come to the rescue here.  Both Fairfield and Westport public libraries offer a pajama story time.  Westport's is weekly; Fairfield hosts events June 25 and July 30 at Jennings Beach (registration required).  If dragging the kids out at bedtime sounds like a nightmare, how about Garden Story Time?  The Fairfield Woods Branch will read stories and plant a garden with helpers age 2-5 on June 12 (registration required).  Up in Bethel, the library is offering a weekly 'Summer Craft Day' series for kids 7 and under, and a Summer Tie Dye event for 6th-12th graders on June 23 (registration required).
If you'd like to get outdoors as a family, you've got plenty of options.  The Webb Mountain Discovery Zone in Monroe is good for all ages, as is Norwalk Historical Society's Letterboxing Trail.  If you're a more advanced hiker, head for Bear Mountain Reservation in Danbury.  Family outdoor fun doesn't just have to happen under the sun either ... what's better than a summer night under the stars?!  Consider camping out in the backyard for one of two massive meteor showers -- July 28 and August 12.  They'll never forget it (unless the streetlights interfere ... it'll be fun to try anyway)!
Now I'm just going to unload a few ... the Milford Oyster Festival on August 18, Boothe Memorial Park and Museum in Stratford, CT Free Shakespeare, Vacation Bible School (VBS) programs at your local churches ... all free.  Oh, and feeding the chickens at Sport Hill Farm in Easton.  Your kids will love this, and you'll love buying organic carrots JUST PULLED OUT OF THE GROUND!
And finally ... the stuff you keep in reserves ... for rain, for extreme heat, for borderline insanity.  Stratford's Regal Cinema Stadium 14.  Free movies.  Well, they were free until this year anyway.  For 2012, you'll have to fork over a buck.  Word has it the deal will be on every Tuesday and Wednesday at 10am, but give them a call in the coming weeks for the latest info.  And finally, the good old mall.  Westfield Trumbull and Westfield Connecticut Post malls both host a couple of Family Fun Days each month.  The Danbury Fair Mall goes all out with a weekly Kidz Camp, Tuesday mornings at 10am from July 10-August 21.
You're armed.  You're dangerous.  Bring on the boredom!