Small Business Saturday in Litchfield County - Shop these Toy Stores and Children's Boutiques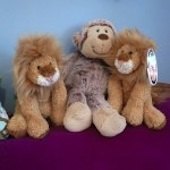 For some of us, shopping on Black Friday has about as much appeal as jumping into a lake in December*. Small Business Saturday, on November 24th this year, is much more my speed. Keeping things local, supporting our small businesses and all that they do for our communities is a good thing to do. I don't know about you, but I just feel better when I shop local which in turn is a little gift for me. Supporting my neighbors and helping our environment while getting holiday shopping done? Score! Plus, the small businesses in my area have lots of cool, unusual and creative gifts not to mention beautiful little villages to stroll about in. There are some great children's boutiques and toy stores in Litchfield County that will have their doors wide open for you this Saturday. Oh, and if you noticed the asterisk next to "jumping into the lake in December" you can do just that this year at Lake Waramaug on December 2nd during the Polar Plunge event. Sounds like a fun new (and chilly) family tradition to me! Read on for a listing of boutiques and shops that you can support in Litchfield County on Small Business Saturday (as well as every other day of the year).
Three Monkeys and Me, Kent
This lovely boutique is divided into two parts. One with good quality clothing, shoes and accessories for babies and children and another filled with cool and interesting toys (including Lego's). Liz Devos, owner, will keep the shop open until 8pm this Saturday and will be serving cookies and beverages all day long. Hot this year are the Semaki and Bird jewelry for girls made of sterling silver and swarovski crystals. Lord of the Rings Lego sets, Knitwit animal and monster hats and Valtech Magnet Building Tiles are all popular items this season. Gift wrapping is free.
7 Fulling Lane, Kent, CT 860.927.4549
Nordica Toy Store, New Milford
Located on the green in New Milford (next to the newest frozen yogurt shop in town). This store is filled to the brim with toys including the mainstays like Playmobil, Thomas the Tank Engine and Groovy Girls. They offer free gift wrapping.
7 Main Street, New Milford, CT 860.355.2034
Play, New Milford
Located right across from the small Bank Street movie theater, Play is the perfect stop for kids and adults alike. It's more than just a toy store with jewelry, gag gifts and lots of fun chotchkies. We always laugh our bums off while in Play and rarely leave without something, even if it's just a piece of retro candy. I've got my eyes on their inflatable turkey this year. Sure to be a big surprise during our family celebration!
49 Bank Street, New Milford, CT 860.355.2134
Mother Goose Toy Shop, Litchfield
They carry scientific games, musical instrument, toys, games, stuffed animals, art supplies, books, puppets, you name it. They gift wrap for free.
33 Village Green Drive, Litchfield, CT 860.567.5331
Gepetto's Toy Store, Woodbury
They offer quality baby clothing, books and toys. Steif, Brund, Bruder as well as Madame Alexander are some of the lines they carry. They have traditional items mixed in with the less common fun stuff. PS While in Woodbury don't miss the food truck not far from Gepetto's on the opposite side of the road. El Camion serves up delicious soft tacos. Try the fish taco marinated in coconut milk. AMAZING.
682 Main Street, Woodbury, CT 203.266.4686
Wish House, West Cornwall, CT
This darling boutique has something for you, your friends and your kids. Art, clothing, books, beauty and bath products as well as adorable stuffed animals and wooden toys for the kids. If in Cornwall, this is a must stop shop.
413 Sharon Goshen Turnpike, West Cornwall, CT 860-672-2969 (near the covered bridge)
Keep it local. It's good for you (and everyone else).
*Polar Plunge: 11am Sunday, December 2nd at Lake Waramaug. Come jump into the lake with the rest of us crazy folks. It's for a great cause!