Restaurants Open on Thanksgiving Day in Litchfield County, CT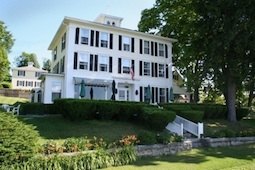 Litchfield County isn't the most populous county and that shows in the limited number of restaurants we might have in any given town. That being said, we have some incredible dining experiences to choose from. I've rounded up some of the best Litchfield has to offer in order to celebrate Thanksgiving Day. We've also rounded up some popular restaurants in Fairfield County. Sometimes it just makes more sense to eat out on Thanksgiving. Heading out to one of these fine dining establishments is sure to guarantee a memorable and hopefully delicious holiday feast.
The Mayflower Inn and Restaurant, Washington
At $85 per person a'la carte you'd expect a divine dining experience and you shall receive it here at the Mayflower. This luxe inn with very fancy dining room and cozy lounge is truly a treat. If you've got the budget for it and want to splurge, we recommend the indulgence. Hey, Thanksgiving only comes around once a year! $39 for children. Roast turkey, mac and cheese, pumpkin pie. What's not to love.
118 Woodbury Road, Route 47, Washington, 06793 860-868-9466
The Hopkins Inn, New Preston
The historic Hopkins Inn overlooks the beautiful Lake Waramaug and surrounding Litchfield Hills. They will be serving an appetizer, entree and dessert for $42. The traditional roast turkey as well as Salmon, Wienerschnitzel, Piccata Milanaise, Roast Pork Loin, Prime Rib and Roast Duck are choices. All of the entrees come with the traditional sides. For children they also offer grilled cheese and pasta. The children's price is either $15.00 or $21.00 depending on the entree and it includes a dessert.
22 Hopkins Road, Warren, CT 860-868-7295
Adrienne, New Milford
Open since 1996, Adrienne is located a bit north of New Milford on Route 7 in an old home with fireplaces. They are offering two Thanksgiving Day seatings at 1pm and 4pm. They can accommodate a large crowd if needed. Turkey, Pork Loin, Wild Salmon and Filet Mignon are on the menu as well as other traditional Thanksgiving meal items. Prices range from $36.00 to $46.00 for a starter, meal and desert.
218 Kent Road (Route 7), New Milford, CT 860-354-6001
Fife 'n Drum Restaurant, Kent
The Fife is a Kent landmark. Their menu is $35 per adult and $22 per child. Corn Bisque, mesclun salad, roast turkey, stuffing, garlic mashed potatoes, brussel sprouts, cranberry sauce, glazed carrots, hericot vert with shallots, are all on the menu and make our mouth water as we write! You'll have to click on to their website to see the numerous delicious deserts they will be offering. They also will have an a'la carte menu for those who want to keep it light.
53 Main Street, Kent, CT 860-927-4595
Winvian, Morris
Winvian is an amazing Relias Chateaux 113 acre property. For Thanksgiving there will be one seating family style in their fine dining restaurant. The evening will start at 5:30pm with a champagne reception in the games room bar and will be followed by a sit down dinner at 6:00pm. Reservations are required for all guests in house and outside guests. $90 per person. No discount for the kids.
155 Alain White Road, Morris, CT 860-567-9600
Originally published 11/5/12.
Similar