Restaurants Serving Thanksgiving Dinner around Hartford, CT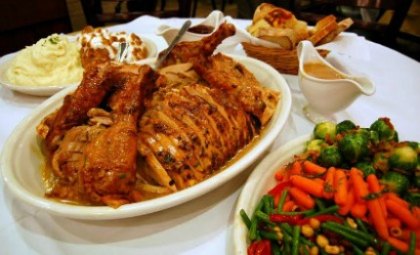 The thought of having to prepare a huge Thanksgiving meal for my family gives me nightmares worse than forgetting to turn in my senior thesis. I prefer to leave it to the professionals and enjoy family, friends, and football rather than shopping, cooking, and cleaning up. For a traditional feast with all the trimmings minus the stress, check out our list of restaurants open on Thanksgiving in the Hartford area. Reservations are strongly recommended for all of the restaurants. Check out our posts about Thanksgiving Dinner Out in Fairfield County and Restaurants open on Thanksgiving Day in Litchfield County too. 
And to be sure you don't miss out on any exciting holiday happenings as we enter this busy season, subscribe to our weekly newsletter, where you'll find a list of each week's highlighted events.
Seasons Restaurant at Avon Old Farms Hotel (Avon) 
This lovely boutique hotel in the heart of the Farmington Valley offers a Thanksgiving day brunch buffet. Start with breakfast treats such as donuts, belgian waffles, and an omelet station. The carving station includes turkey and prime rib. Move right on to dinner with sides including pumpkin ravioli and traditional Thanksgiving fixings. There is also a table especially for kids as well as a dessert table including gluten-free specialties, and, wait for it...a milkshake station! Adults - $49.95 (includes mimosas); children (6-12) - $24.95; ages 5 and under are free. The buffet is available from 11 am-3 pm. 
279 Avon Mountain Road, Avon, CT 06001
860-269-0242
La Trattoria
(Canton)
Enjoy a delicious hand-carved turkey served right at your table along with all of the traditional sides including your choice of pies. You even get to take home leftovers to enjoy the next day. Reservations are recommended. Seating begins at noon. The cost of the meal is $39 per adult, half price for kids, and under 3 eat free. 
21 Old Albany Turnpike, Canton, CT 06019
(860) 673-5000
J. Gilbert's (Glastonbury) 
Settle in for a cozy family meal at this award-winning steakhouse, with dark wood accents, stone work, and fireplaces. The special 3-course prix-fixe Thanksgiving menu features roasted turkey and all the fixings. Your choice of appetizer and dessert is included. If you're not a Thanksgiving kind of person their regular menu is also served. Gluten-free and vegetarian dishes are available. They are serving from 11 am-8 pm. Adult meals are $38; kids 12 and under $19. 
185 Glastonbury Boulevard, Glastonbury, CT 06033
860-659-0409
Metro Bis (Simsbury)
This highly-acclaimed restaurant, in the Simsbury 1820 House Bed and Breakfast, offers food and charm that can't be beat. Seating reservations begin at 11:30 am, with the last seating at 6 pm. The  three-course menu includes choices of appetizer, entree, and dessert. Entree choices include short ribs, salmon, and crab cakes in addition to turkey. The price is $48.95 for adults and $19.95 for children 10 and under. They also provide a to-go menu, with cooked turkey at $7.95 per person or a raw, seasoned turkey ready to make at home priced by the pound. All the sides are $10.50 per quart and pies are $25 each. All orders should be placed by November 20 and can be picked up on the 25th between 11 am and 7 pm. 
731 Hopmeadow Street, Simsbury, CT 06070
860-651-1908
Millwrights (Simsbury)
Offering inspired New England cuisine, Millwrights is serving a prixe fixe menu from 11:30 am-6 pm. Enjoy foods sourced locally from farms in Simsbury and Canton. Choose an appetizer and entree; sides are served family-style. An assortment of Thanksgiving treats are offered for dessert. Meals are $59 for adults and $29 for children 11 and under. 
77 West Street, Simsbury, CT 06070
860-651-5500
The Mill on the River (South Windsor) 
This picturesque restaurant has a unique history -- it is the former Podunk Mill, built by the colonists and members of the Podunk tribe. Enjoy their prix-fixe menu, which offers a choice of soup or salad, entrée, and dessert. Entrée options include garlic and rosemary pork loin, honey glazed ham, roast tom turkey, filet mignon, baked stuffed shrimp and more. Meals for adults are $35.95; children 12 and under are $18.95, which includes a starter and dessert.
989 Ellington Road, South Windsor, CT 06074
860-289-7929
Nutmeg Restaurant (East Windsor)
This bright and upscale eatery offers a Thanksgiving menu with choice of appetizer in addition to several choices each of soup or salad. There is also a large selection of entrees, including turkey, salmon, pork osso buco, pumpkin ravioli, prime rib, and more. Dessert is included. Prices are $34.95 per person, $17.99 for children 5-10. Seatings begin at 11:30 am and end at 6 pm. 
297 S Main Street, East Windsor, CT 06088
860-627-7094
Rooster Co. (Newington)
This new restaurant in Newington has been receiving rave reviews for their fresh take on comfort food using local ingredients. They are offering a family-style Thanksgiving dinner from noon-5 pm. If you are looking for a more casual experience, as well as traditional cuisine with a creative twist, this would be a good place to try. Meals are $30 for adults and $15 for children ten and under. Desserts are $6. 
1076 Main Street, Newington, CT 06111
860-757-3969
Apricots (Farmington)
Located in a colonial house on the Farmington River, Apricots offers a scenic setting as well as a fabulous meal. Diners can choose a complete turkey dinner for $29.50 or order from a special holiday menu with a large selection of entrees. A children's menu offers a small version of the turkey dinner in addition to other choices. 
1593 Farmington Avenue, Farmington, CT 06032
860-673-5405
Angelico's Lake House (East Hampton) 
Enjoy dinner overlooking scenic Lake Pocotopaug or dine by the fireplace decorated for the holiday season. The delicious buffet includes a carving station with turkey and beef. There will also be peel and eat shrimp, lamb, seafood stuffed sole, sausage and peppers, Louisiana seafood medley, a fruit/cheese display, kids' items, traditional sides, and desserts. Seating for the buffet is at 12 pm, 2 pm and 4 pm. Meals are $28.95 for adults, $13.95 for children 5-12, and free for kids under 5. If you prefer to eat in your own home, they also have fully-cooked Thanksgiving meals to go including turkey, traditional sides, rolls and pies. The dinner for 14-16 people is $150 or dinner for 6-10 people is $125. Order by November 20 and pick up between 8 am and noon on Thanksgiving day. 
81 North Main Street, East Hampton, CT 06424
860-267-1276