FREE Museum Days (Fairfield & New Haven Counties)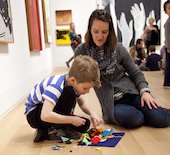 Getting out of the house is good this time of year.  Having somewhere to go that's free -- even better.  A handful of museums in Fairfield County, and neighboring New Haven County have caught on to that fact, offering up free events in the coming days, and even year-round in some cases.
Stepping Stones, Norwalk
The crown jewel of kids' museums in lower Connecticut has offered it's 'Get Into It! FREE' program for quite some time.  Every first Thursday of the month, Stepping Stones swings open its doors for a freebie evening of fun, from 5 - 8pm.
Through March 28th you can also get half-off admission Tuesday through Friday, for entrance between 3:00 – 5:00 pm.
Mathews Park, 303 West Avenue,  Norwalk, CT 06850
203-899-0606
Bruce Museum, Greenwich
Children under 5 are always free at the Bruce, but on Tuesdays, mommies and daddies are in for nothing, too.  Note, the museum will be closed Wed., Jan. 15 for the installation of their newest exhibit In the Dark.  It's one you and your older kids won't want to miss, featuring animals' nighttime survival techniques.  The exhibit will run until April 13.
1 Museum Drive, Greenwich, CT 06830-7157
203-869-0376
The Aldrich Contemporary Art Museum, Ridgefield
This independent art museum is also the only one in CT devoted to contemporary art.  Admission is always free for children under 18, but on Tuesdays, adults don't have to pay either.  You can also catch a docent-led tour free of charge.  On select Saturdays, Sundays and school holidays from noon - 5pm, the Aldrich also offers free family art activities with the price of parent admission.
258 Main Street, Ridgefield, CT 06877
203-438-4519
New Haven Museum, New Haven
Why not check out the Puritanical roots of this New England city on the 1st Sunday of every month -- it won't even cost you a nickel. 
114 Whitney Avenue, New Haven, CT 06510
203-562-4183
Yale Peabody Museum of Natural History, New Haven
During the school year, you can pop into this world-renown museum for nary a penny on Thursdays from 2 - 5pm.  They also offer free admission on the Sunday and Monday of Martin Luther King Jr. weekend for the Martin Luther King Jr. Festival of Environmental Justice, the last Saturday in August for Summer's Last Roar, and during their annual ¡Fiesta Latina! event, typically in October.  That all being said, museum parking is very limited on weekdays, so bring some cash for that!
170 Whitney Avenue, New Haven, CT
203-432-5050
 
FREE FOR EVERYONE ... all.the.time.:
The Barnum Museum
In June 2010, a rare-for-these-parts tornado devastated the historical building housing the iconic entertainer's collections.  This year, plans for its complete restoration will be in the works.  While they're hammering out the details, you can take a look at how they evacuated the valuables during the storm, and how they're repairing others.  Just enter through the back at the People's United Bank Gallery entrance.  Thursdays and Fridays only, 11am - 3pm.  
820 Main Street, Bridgeport, CT 06604
203-331-1104
Bellarmine Museum of Art at Fairfield University
The Bellarmine opened in 2010, and boasts a collection of art that spans the globe and time.  You and your brood can view pieces from the Bronze Age to the Baroque, weekdays from 10am - 4pm (9:30am - 12pm on Fridays in summer).  They do open on occasional Saturdays, and close on University holidays, so check their calendar before you go. 
1073 North Benson Rd., Fairfield, CT 06824
203-254-4046
Yale University Art Gallery
Unlike the Bellarmine, you won't get through this one before lunch.  The collection spans three buildings, so pick a continent or medium, and see what you find!  Stop by the Information Desk first to gather supplies for self-guided family activities, including drawing materials, worksheets, and felt kits.  The second Sunday of the month is Family Day, when they use unique storytelling to help children view art in new ways.  They even provide drawing materials for older children.  Their Annual Family Day is coming up Sunday, Jan. 26 from 1-3:30pm.
Hours: Tues - Fri 10am - 5pm; Thur (Sept-June) 10am - 8pm; weekends 11am - 5pm.  Closed Mondays.
1111 Chapel Street (at York Street) New Haven, CT
203-432-0600
Originally published on 1/22/13