Easter Egg Hunts in Central CT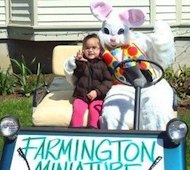 Here we have listed some great places that are hosting an Easter egg hunt event in the central CT area. So grab your baskets and go have some fun with this great annual tradition. We've also rounded up events in Fairfield and Litchfield counties.
The annual Easter egg hunt at Farmington Miniature Golf will be on Saturday April 4th from 11-2 pm. Join in the hunt for over 10,000 Easter Eggs plus tons of more family fun with face painting with Sparkle The Clown, ice cream, bounce house and pictures with the Easter Bunny! And the whole thing is emceed by Mike Stacy of Lite 100.5 FM.
Farmington Miniature Golf 1048 Farmington Ave. Farmington, CT
There is an Easter Egg Hunt & Easter Bunny Visit at the New England Air Museum on Friday, April 3rd. Bring your own basket and the hunt for eggs begins at 11am. Activities also include open cockpits and the Museum's Flight Sim Spot allowing visitors to use state-of-the-art simulators with real cockpit
New England Air Museum 36 Perimeter Rd, Windsor Locks, CT
Stew Leonard's in Newington is having a free Easter Egg Hunt Eggs-travaganza on Tuesday, March 31st, from 4-5:30 pm. Children ages 8 and under will be given a map of Stew Leonard's and a bag to collect eggs from costumed characters throughout the store. Each egg will contain prizes that include candy, board games, toys, and gift cards. After the egg hunt children will be able to take photos with the Easter bunny.
Stew Leonard's 3475 Berlin Turnpike Newington, CT
The 44rd Annual Imperial Oil Egg Hunt is Friday, April 3rd.  A free family fun event at the SWHS Stadium. Children will hunt for plastic eggs, meet the Easter bunny, and enjoy a hot drink or snack. The hunt times are split up by age group with age 2 starting at 10 am and increasing one year every 15 minutes. In conjunction with the Egg Hunt, the SW Jr. Women's Club will sponsor the "Kids Fair" at the High School from 10:00 am to 1:00 pm. Kids Fair includes games, prizes, and fun for the entire family. Rain or shine!
161 Nevers Rd. South Windsor, CT 06074
On Thursday, March 26th, in Wallingford The Golden Egg Hunt will be hosted at Doolittle Park in the playscape area. For younger children ages 1-5 the hunt will begin at 7:00p.m. and older children ages 6-11 the hunt will begin at 7:15p.m. Plastic filled eggs, candy along with 9 special GOLD EGGS for each group will be spread throughout the park and participants are asked to find only ONE Gold Egg. Once found you may redeem your prize for the golden egg at the table at Doolittle Park. Parents should be aware that if they have a young child and an older child two adults will be required to participate in both events. Parents are asked to bring a basket and a flashlight for their child.
78 S Elm St, Wallingford, CT 06492
The 65th Annual Cheshire Town Easter Egg Hunt will be held at noon on Saturday, March 28th, at Cheshire Park. All children from age 2 through 12 are invited to participate. This event is run each year by the Cheshire Lions Club in cooperation with the Cheshire Parks and Recreation Department. In case of inclement weather, the Hunt will be rescheduled for the same time on Saturday, April 4th.
20 Highland Ave. Cheshire, CT 
Head over to the Hubbard Park Bandshell in Meriden to join in on a fun Easter egg hunt on Saturday, April 4th. For ages 3 and under it starts at 10 am, 4-5 is 10:30 am, ages 6-7 is 11 am, 8-10 is 11:30 am. Children are asked to bring a basket or bag to collect their candy and adult assistance is only permitted for the 3 and under group. 
999 W Main St, Meriden, CT 06037
Easter Bunny Fun Day will take place Saturday, April 4th, from 10 am to 4:30 pm at the Connecticut Trolley Museum. Each child will receive an Easter egg containing a small prize. Additional activities include face painting, tattoos, crafts, a train table, and more. 
58 North Road, East Windsor, CT 06088
​Check out the Eggstravaganza at the New Britain Youth Museum at Hungerford Park in Kensington on Saturday, April 4, 10:30 a.m. to 12:30 p.m. There will be an Easter story, visit with rabbits and hunt for Easter surprises. The Egg hunt times are 10:45 a.m. for children 4 and under; 11:45 a.m. for ages 5 and older. Admission is free for members and non-members are $5 per participating child. 
191 Farmington Ave Kensington, CT 
Originally published on 3/3/13.