Where to meet Santa in Hartford County, Connecticut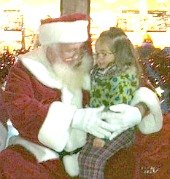 There are so many fun events happening in preparation to celebrate the holidays but probably the one most children are excited about (well other than getting presents of course) is the chance to meet Santa. They have their letters ready and can't wait to meet the man in red to share their wish lists. We all know about the usual mall sightings but here is a list of other places you and your child can also visit with Santa Claus.
Enjoy a full breakfast buffet with Santa Claus at the Rainforest Café located inside The Westfarms Mall. On December 17 from 8-10 am your child can meet Cha Cha the lizard and Santa Claus while enjoying a delicious meal that includes eggs, muffins, pancakes, toast, sausage and more! Reservations required.
500 South Rd. Farmington, CT 06032
Price: $8.99 (4-10), $11.99 (11+), free under 3
From December 15-23 your child can experience an exciting Christmas event at Wickham Park in Manchester. Santa's Workshop is a free event where children of all ages can meet Santa, Mrs. Claus and their elves. You and your family can enjoy refreshments while watching the elves working on toys all set in a log cabin with decorations, festive music, a fire in the great stone fireplace and a 15 foot Christmas tree.
1329 West Middle Turnpike Manchester, 06040
Hours: Mon.-Fri. 3 p.m.-6 p.m., Sat.-Sun. 1 p.m.-5 p.m.
Join Santa on December 16, for an enjoyable day of holiday fun at the Veterans Memorial Ice Skating Rink in West Hartford. Each child will receive a special gift from Santa after an exciting hour of skating around the rink.
56 Buena Vista Road West Hartford, CT 06107
December 16 from 4:30-5:30 pm
Admission: West Hartford Child (12 and under) and Sr. (65+) $5.75, West Hartford Adult $6.25, Non Resident Child or Adult $7.25, Skate rental $4
For a fun magical event the Bushnell Park Carousal is open on the weekends and Santa will be visiting from 12- 3pm every Saturday and Sunday. Your child can get a free 5x7 photo with him and enjoy a ride on the carousal (for regular admission).
Bushnell Park Hartford, CT 06103
November 26- December 18, 2011
Running only for one weekend in 2011 you and your family can experience a special Christmas event at Flamig Farm. You get a hearty breakfast with Santa and his friends that include pancakes, home fries, sausage and farm fresh eggs. Enjoy a memorable visit with Santa, Mrs. Claus, Elves, Frosty and the Grinch before going on a relaxing Christmas Trolley ride out to reindeer land.
7 Shingle Mill Road West Simsbury, CT 06092-2311
Tickets are $25 per person, Children under 2 are free
Saturday, December 17 and Sunday, December 18
Happy Holidays!