Fun & Free Things To Do With Kids This Weekend In CT: How about some Hurricane Irene fun at home!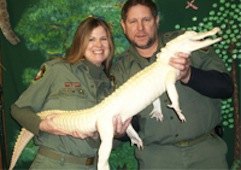 Editor's Update * It's looking like Hurricane Irene is going to take over the weekend so check out this post on our NYC site about what to do with the kids during the hurricane. The following post was published before we knew how much the hurricane would impact our area. Stay safe and be prepared for power outages. Have lots of water and snacks on hand. Let's prepare for the worst and hope for the best! Lots of the activities below are most likely going to be canceled.
While we've been shopping and preparing for back to school we've also been fitting in that last bit of summer fun before Labor Day.   Even if it rains this weekend there's still fun to be had for you and your family. If your child loves history you won't want to miss this battle encampment re-enactment or the tin can lantern making workshop. For reptile lovers check out the rare albino alligator that will be visiting Beardsley Zoo over the weekend. We've also listed museum and festival fun including a Greek Festival and Terryville's 63rd Country Fair. Our best bets for the weekend are below. You can find additional seasonal fun in our Event Calendar.
Be sure to sign up for our weekly newsletter for the inside scoop on fun family activities all over CT. You can follow us on Twitter and Facebook too!
PS Don't miss out on our Silhouette GiveAway from Cut Arts that is taking place right now!
ALL WEEKEND
Rainforest Reptiles is at Connecticut's Beardsley Zoo
Rainforest Reptile Shows features exotic crawlers, unusual slitherers, and fascinating creepers, all of which are creatures of the rainforest. Rainforest Reptiles' rare albino alligator, one of only 30 known in the world, will be on display in its own special exhibit during the four days the show is at Connecticut's only zoo.
The First Major Encampment in Bolton since the American Revolution
Sounds like a lot of excitement for the kids. A major encampment of 18th century troops, artillerymen, dragoon horsemen, camp followers, craftsmen and merchants will converge at this site to provide a major living history event. Over 300 participating living historians will portray camps from the French, American, British and Spanish armies of the time in an event that is open for the public.
The Terryville Country Fair
This traditional 63rd annual country fair features Tractor pulls, horse shows, crafts, fairground eats, and more. There will be live music and other entertainment all weekend. Children can enjoy magic shows, carnival rides and games, and a watermelon eating contest.
Shake it Up Shakespeare at the Long Wharf Theatre
Sixteen young actors from all over the state have joined together to create the Shake-It-Up Shakespeare Youth Ensemble to present two incredible shows this weekend: Hamlet and Threads of a Spider Web.
St. George Orthodox Church Greek Festival
Entertainment, homemade Greek foods, games and rides, traditional Greek dancing, market, raffle and more.
SATURDAY Aug. 27th
New Britain Museum of American Art Free Admission
The New Britain Museum of American Art has free admission to the public on Saturday's.
Litchfield Historical Society Tin Can Lantern Making Workshop
People of all ages to join in a fun historic activity. This month's activity will be tin can lantern making, allowing visitors to create a Colonial-inspired piece of recycled art.
Southington Drive-In Saturday Nights
"The Sandlot" is playing.
SUNDAY Aug. 28th
Old-Fashioned Flea Market
The park surrounding the Lockwood-Mathews Mansion Museum will be overflowing with a wide variety of new and used merchandise and family-friendly entertainment as the museum launches its fourth annual Old-fashioned Flea Market. There is no rain date.
SkyQuest for younger children
Show consists of a 5-7 minute live show about tonight's sky followed by "Sky Quest", a show about constellations, the Moon, and planets. This show is particularly suitable for young children.
The Little Gym of Ridgefield Open House
The Little Gym of Ridgefield is scheduled to open on August 28, 2011. Registration is already available online or via telephone. Interested families may attend an open house on August 28. Classes are designed for children between the ages of four months and 12 years.
Fun Sundays at the Litchfield Historical Society Museum
Looking for an exciting activity on a Sunday afternoon? Stop by the Historical Society anytime from 1:00 to 4:00 for fun, games, or to learn a new skill. Activities will range from outdoor games to quill pen writing to ice cream making.

Take Part in Art at Weir Farm
Visitors have the opportunity to experience first-hand the fun of plein air painting and sketching while becoming a part of an enduring artistic tradition.Watercolor supplies will be available for free.