Fun Day Trips In and Around CT: Part 4 of a Series - Gillette Castle and Caumsett State Historic Park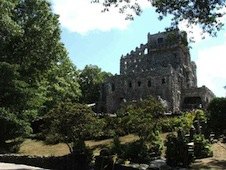 by Monika Nica
Gillette Castle, East Haddam, Middlesex County
Do you know that Connecticut has its very own fortress? Gillette Castle in East Haddam looks like a decoration from a fairy tale book, a real medieval castle. Its robust, dark gray stone walls, bastions and towers hide an eccentric and surprising fantasy world of hidden doorways, tricky pieces of furniture and quirky installation. Once a property of Sherlock Holmes actor, William Gillette, the fortress is now open to the public. Its generous park mirrors the castle: its winding trails lead through arched bridges and little tunnels along the path of the castle's private 3-mile long railroad with its own Grand Central Station. So if you are ready to share something extravagantly out-of-the-ordinary with your family, plan a trip to East Haddam's Seven Sisters Hills.
Gillette Castle State Park
67 River Road
East Haddam, CT, 06423
Phone: 860-526-2336
Hours:
Castle:
Daily: 10 am - 5 pm
Park:
Daily: 8 am to sunset (no fee)
Fees:
Adults: $6
Children: $2
Children under 5: Free
Day trip to Long Island: Caumsett State Historic Park in Huntington
With the days still long, a trip to across the Sound should still fit nicely into a sunny Saturday. The excitement of a ferry ride across the waters and the explorations of the treasures of the 'far away' other shore would certainly make for a special weekend. The Bridgeport and Port Jefferson Steamboat Company's ferries sail every hour. Once on the Island, you can drive over to Caumsett State Historic Park in Huntington. This huge estate, once a self-sufficient community, is the ideal place for a day of active family fun. Its rolling hills are covered in lush meadows and young forests. The park has miles of bridle paths and an equestrian center for lessons and riding options. The estate has a beautiful old mansion overlooking the Sound and many smaller buildings and cottages. You can explore the grounds for hours, on foot or by bike, walk down to the narrow beach covered in shells or hang out around the old barns and walled garden of the estate. On the drive back to the ferry, you can stop by one of the many produce stands or farms on Route 25A to pick up freshly picked corn, strawberries or tomatoes for a healthy family dinner at the end of a long, eventful day..
Bridgeport-Port Jefferson Steamboat Company
320 Water Street Dock
Bridgeport, CT, 06604
Phone: 203-384-9777
Hours:
See website for schedule - you must book in advance.
Fee:
$95, one-way, car with passengers
Caumsett State Historic Park
25 Lloyd Harbor Road
Huntington, NY, 11743
Phone: 631-423-1770
Hours:
Daily: From sunrise to sunset
Fees:
Parking: $8