Celebrate Earth Day 2012 in Connecticut (Fairfield County)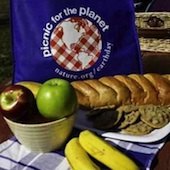 Earth Day.  What could be more elementary?  Your kids know to take care of their teeth, their toys…so why not the planet.  Even the little ones can learn about litterbugs.  And if they're old enough to understand Valentine's Day as a chance to do something extra special for those they love, then it's easy to explain Earth Day is an opportunity to give back to the planet they probably take for granted.  You can simply celebrate the day, roll up your sleeves and restore your corner of the world...or do a little of both.  If you'd prefer to come alongside other Earthlings for the cause, here's where you can find them:
Earth Day Fair
The Connecticut Friends School brings in live animals, storytellers and African drummers for its Earth Day Fair geared toward 2-12 year olds.  Bring your unwanted crayons to be recycled!
Wednesday, April 18, 2012
3:15 to 5:30 p.m.
Connecticut Friends School
White Barn Campus  440 Newtown Avenue  Norwalk, CT 203-762-9860
Greenwich Town-wide Clean-Up
Your good deeds will not go unnoticed in Greenwich.  Trade your collected trash for spring plants at any town firehouse.  You'll also receive certificates for completing community service.
Saturday, April 21, 2012
8am-Noon
Dumpsters will be available until 4pm
To volunteer or report a dirty site, call 203-531-0006
Party for the Planet, Beardsley Zoo
Live music will amuse all the wild animals (including your kids), while vendors show off the latest in environmentally-friendly products.  Zoo admission required.
Saturday, April 21, 2012
9am-3pm
1875 Noble Avenue  Bridgeport, CT 06610

203-394-6565
Coastal Cleanups
Save the Sound will provide supplies to clean up the Connecticut coastline…pitch in with the whole family!  
Stamford:
Saturday, April 21, 2012 (rain date: April 22)
10am-Noon
West Beach
Please contact Cyd at cgorman@thedataedge.com or 203-355-9291 to RSVP or for more information.
Bridgeport:
Saturday, April 21, 2012
9am-Noon
Seaside Park (west end of park)
Please contact Aled at aled.hollingworth@buildon.org or 203-602-9342 to RSVP or for more information.
Earth Day 2012: Picnic for the Planet
Help set a world record for the largest global picnic in a 24-hour period!
Sunday, April 22, 2012
11am-2pm
Katharine Ordway Preserve
165 Good Hill Road  Weston, CT
EarthWorks
In case of a washout, you can take the kids to this art exhibit opening at Darien Nature Center.  The show features three local artists -- a sculptor who uses junk, an abstract 'writer', and a nature photographer.
Sunday, April 22, 2012
3-5pm
120 Brookside Road  Darien, CT 06820

203-655-7459
Letterboxing Kickoff Event
If you're looking for a totally unique way to celebrate the day, this is the event for you.  An outdoor pastime in England, the Norwalk Historical Society brings letterboxing to this part of the planet -- sort of a combination of treasure hunting and stamping.
Sunday, April 22, 2012
12-4pm
Norwalk Historical Society
Mill Hill Historic Park Town House  2 E Wall St  Norwalk, CT 06851
203-846-0525
Fairfield Earth Day Celebration
Fairfield holds a massive annual event that includes music, food, magic, presentations and a Trashy Fashion show. Boy Scout Troup 88 will also be selling their 'Square Foot Garden' kits, which you can build yourself, or pay the scouts to install.  Admission is free.
Saturday, April 28, 2012
10am-4pm
Fairfield Warde High School
755 Melville Avenue  Fairfield, CT
Newtown Earth Day Festival
This cozy town's 5th Annual Earth Day Festival will feature an environmental maze, litter pick-up, recycled art show and silent auction.  
Saturday, April 28, 2012
10am-4 pm
Newtown Middle School
11 Queen St.  Newtown, CT
If you'd prefer to stick close to home this Earth Day, you can always plant a garden, a tree, or start a compost pile.  But if that's too cut-and-dry for your bunch, how about making your own greeting cards that actually bloom when the recipient plants them?!  The double-bonus...you'll be able to recycle all the random construction and computer paper currently cluttering your countertops.