Spa Birthday Parties for Kids (Central Connecticut)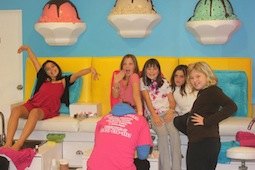 Some of you have been envisioning this moment since baby girl was in utero.  Some of you cannot believe you just googled the words 'spa party'.   Either way, we've simplified the search for you in Central Connecticut, finding salons and spas that will provide the works for your girly girl and her gaggle of little girlfriends.  There are also several companies that simplify the  process by bringing the glam team to your digs. For even more great party ideas check out our Party Guide.
Sundae Spa
These folks are re-writing the book on this subject.  Let me try to paint the picture: think Candy Land come to life, but for the bathroom -- soap in the shape of colorful cupcakes, delectable gourmet fudge, and scrumptious creamsicles.  Now picture an entire spa with these delicious (looking) products ALL OVER THE PLACE, complete with kiddie mani/pedi stations, salons chairs for updos and cuts, body glitter tattoo applications, makeup artists, and ... a runway.  Now, let's add an area where you can MAKE YOUR OWN shampoo, body butter, lip gloss, etc.  Stick it all in a blender and you've whipped up the party every diminuitive diva's ever dreamed of.   Fetes for eight start at $280 and include favors, evites, staff, 2-3 hours in a private room and a sundae dessert (the kind you can actually eat). 
2457 East Main St, Waterbury,  CT 06703
(877) 737-3593
COMING SOON TO THE CT POST MALL IN MILFORD, TOO!
Trixie's Cuts for Kids and Trixie's To Go
This salon is run by a former NYC stylist who knows that girls just wanna have fun.  Trixie's offers either 'Glamour' or 'Spa' party packages.  'Glamour' includes funky updos with or without curls, glittery nails, makeup, crafts and more. The 'Spa' option, of course, has mani-pedis, organic facials, and updos with a choice of temporary hair color & sparkle. Wahoo!!  Both packages include a fashion runway show, cupcakes, and juice boxes.  $300 for up to eight children at Trixie's, or in your home.
1400 Boston Post  Road (Next to Michael's)
Milford,CT, 06460
203-301-4268
Hidden Oasis Spa to Go
This grown-up mobile spa service didn't want to leave little people out, so they've created packages for both teens and little girls, too.  They convert your space into a tropical oasis with cushy chairs, rugs, scented candles, and treats like sparkling cider toast with strawberries or smoothies-- all that special spa stuff!  Hidden Oasis has several organized packages, which can include manicures, pedicures, mini-massages, makeup and mini-facials.  They'll also work with any budget and can go a la carte, if need be. All packages include party favors, a craft, a skin care lesson, and a tiara for the birthday girl...plus  more!  There are heaps of add-ons also available -- truly full-service.
203-909-5735
Pink Butterfly Spa Parties
The owner of Pink Butterfly makes all of the products used for her mobile spa parties, and believes it's just as important for girls to learn to put healthy products on their skin, as it is to put healthy food in their bodies (the only exception in her line being the crackle nail polishes, which the girl's 'love!').  Pink Butterfly will come to any destination in Connecticut and has one licensed cosmetologist on staff.  They offer several packages for a range of budgets, from the $150 option where the partiers apply the facials and nail color to each other, on up to the $1250 full-fledged convert-your-living-room-to-a-spa option which includes manis, pedis, facials, hair highlights, spa robes, food and more.  There's even an economical mail order kit available, so you can throw a do-it-yourself spa party. 
203-560-5481
pinkbutterflyspaparties@gmail.com
Birthday Parties to Remember
Melissa and crew come to you armed with dress-up clothes, hair styling tools, makeup, jewelry, glitter tattoos, face painting and prizes.  The service is a flat rate of $195 hour, anywhere in CT.
203-481-2204
A Glam Studio
Who's more excited about getting pampered than students about to embark on a beauty career?!  A Glam Studio cosmetology school in North Haven, hosts Princess parties of up to 6. Each child receives a a mini mani/pedi updo, and makeup application.  Parties last two hours and include cake! $350
464 Washington Ave.
North Haven, CT 06473
203-239-GLAM (4526)