Ice Skating Rinks in Connecticut (Hartford County)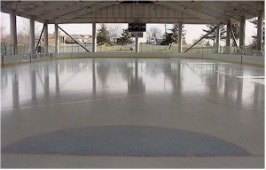 Childhood memories of the holiday season for me include hot cocoa, making snow angels and going ice skating. I remember traveling to the city as a young girl with my family to see the gigantic Rockefeller Christmas tree and afterwards skating around the beautifully lit rink. That is when it officially felt like Christmas to me. But you don't have to travel that far to have this magical experience. Hartford County has many great choices for both indoor and outdoor ice skating rinks so that you, too, can begin making family traditions and forming memories that will last a lifetime.
The Veterans Memorial Ice Skating Rink is an indoor recreational venue located in West Hartford. During the holiday season when schools are closed the rink opens for additional public skating times. They have a rink side café that sells a range of food and beverages, a climate controlled lounge area with free wireless internet access and cable television.
56 Buena Vista Road West Hartford, CT 06107
Admission: $6.25 (Adult), $5.75 (West Hartford Child 12 and under and Sr. 65+), $7.25(non-resident child or adult), $4 (skate rental)
Bundle up in your winter gear and head over to Simsbury Farms to enjoy their large covered outdoor skating rink that was rebuilt in 1999. It is open to the public from November 2- March 11 and equipped with artificial ice making machinery. They offer public skating as well as a learn-to-skate instructional program.
100 Old Farms Rd. Simsbury, CT 06070
Hours: Saturdays 7:30-9:00PM, Sundays 2:15-4:15PM (No public skate Nov. 24, 25, 26, Dec. 25, 27, 28, 29) **February Vacation Hours Feb. 20-24 1:00-3:00pm
General Admission: ID required (checked for ages 16 & up) Residents $2.00, Non-Residents $4.00
December 5 marks the start of Hartford's Winterfest where free skating is offered in Bushnell Park 7 days a week on the east side by the Pump House. If you don't have your own ice skates there are ones available for rental at no cost. On Saturdays and Sundays from 6-7 pm you can even enjoy a free ice show.
Bushnell Park Hartford, CT 06103
Hours: 11- 9 pm, Daily till February 20, 2012
Enfield Twin Rinks has been open for over 30 years and offers public skating on Saturdays from 1:10- 2:30 pm. With a donation of a non-perishable food item to the Enfield Food Shelf you receive a free skate rental.
1 Prior Rd. Enfield, CT 06082
Admission: $7, rental $3
The South Windsor Arena is a family owned business with a full service ice arena that has been open since 1971. Enjoy a day of indoor ice skating with your family in this great rink with friendly staff. Check the website for full schedule of public skate times.
585 John Fitch Blvd. South Windsor, CT 06074
Admission: $7, (Skate rental) $3