Meet Santa Events in Connecticut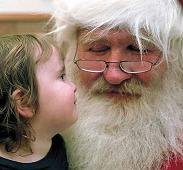 Do you know someone who can barely wait for Santa to come? Do you have little hopeful Santa-watchers who have secret wishes to share with good old Santa? The good news is that He is all around. Whether you would like to meet Him while shopping, having fun in a museum, browsing Christmas arts and goodies or celebrating the season in your community, you are sure to find the jolly old man somewhere near you.
Santa at the museums
The North Pole Comes to Stepping Stones Museum for Children in Norwalk and with it Santa, Mrs. Claus, Frosty, the Snowman and the Gingerbread Man will all pay a visit. They will invite the little ones for story time and holiday craft activities every day between December 20th and 23rd at 11.30 am and 2 pm.
Santa will also come to the marvelous Mystic Seaport Museum on December 10th, arriving promptly at 1 pm. He will stop by in Mystic once more on December 17th. This time he can be found in the Mystic Aquarium where he will be hosting a special breakfast for kids at 8 am.
The Lockwood-Matthews Mansion Museum in Norwalk will also host Santa on December 11th, starting from 1 pm. Visitors can meet him in the mansion decorated for the Victorian Holiday Open House event offering an old-fashioned community celebration of the season with musical performances, sweet treats and delicious hot chocolate.
Santa on the farm
Shhh, Santa is coming to a farm near you, too! 
On December 10th and 11th, he and Mrs. Claus will be hosting a buffet breakfast at the Wood Acres Farm in Terryville. Mrs. Claus will share holiday stories with the children and guests will be treated to a horse-drawn carriage or - weather permitting - a real sleigh ride.
Lyman Orchards in Middlefield has Family Holiday Brunch with Santa on December 11th and 18th. Should you opt out from the brunch, you can still stop by Santa at the festively decorated historic farm for a quick discussion of holiday wishes.
If you miss Santa at these two events, you can still catch up with him at the Jones Family Farms' Santa's Annual Family Weekend in Shelton on December 17th and 18th. The celebrations will last from 10 am to 4 pm on both days and will feature caroling, holiday arts and crafts, the old man himself and Frosty as a special guest. 
Community events with Santa
Many towns and villages will welcome Santa this season for a brief visit or more extended celebration.
Woodbridge will be a quick stop-over for Santa and Mrs. Claus on December 17th at 3 pm, at the Woodbridge Fire House. Cameras and secret wish lists are welcome.
Manchester has made itself especially attractive and welcoming to Santa, setting up a cozy log cabin with a friendly fireplace, a giant 15-foot Christmas tree  to celebrate the season. Santa will be 'in the house' on December 10th and 11th and between December 15th and 23rd. Holiday music will be played while children can participate in holiday workshop events in a relaxing, non-commercial atmosphere. 
East Lyme honors the season and Santa with bright lights, spectacular fireworks and hot food. Their WinterFest and Light Parade starting at noon on December 11th features Chili/Chowder cook-off, a gingerbread house competition, horse-drawn carriage rides and a fireworks display with the guest of honor, Santa.
The Greenwich Reindeer Festival is an ongoing event with opportunities to take a peek at and a photo with Santa daily until the big day finally comes. 
Malls
Giant Christmas trees going up multiple floors, generously decorated 'Santa-corners', breathtaking displays - yes, Connecticut's malls are ready for the kids' essential pre-Christmas Santa-moments. For Santa visit and photo schedules at the Danbury Fair Mall, the Westfield Connecticut Post Mall in Milford and the Westfield Meridian Mall, click on the links.
So were you nice or naughty this year? Either way, Santa is ready and eager to meet his little starry eyed fans everywhere.