4th of July Fireworks Weekend Schedule in CT: Fairfield, Greenwich, New Milford and more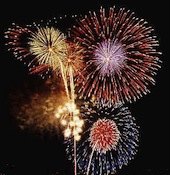 Looking for 4th of July Fireworks in Connecticut? There are many ways to celebrate our nation's independence but nothing does the job like good old fashioned fireworks. Most towns throw their own celebration, some bigger than others. On the following list you'll find firework celebrations that are being held over the 4th of July weekend. If your town isn't listed they may be doing shows the following weekend. Some towns require you to get a pass prior to attending the show. Details are provided where possible. Tips: Getting there early ensures that you will get a parking spot and a comfortable seat with a good view. Having something for the kids to do before the show can be a real life saver. Remember to bring bug spray, snacks and patience (for those who will have to wait in the parking lot afterwards.) Enjoy the magic!
[UPDATED 6/27/13]
Friday, June 28th
Town of Darien Fireworks
Held at the local high school. Preorder your picnic baskets at Palmers Market. Gates open at 6pm.
Hamden Volunteer Firefighters and Music
Music will fill the air at Hamden's Independence Day celebration and fireworks display.
Barnum Festival Fireworks
The festival's fireworks show will take place at Seaside Park.
Mystic Fireworks
During the Mystic Blues Festival over the river.
Saturday, June 29th
Trumbull Day
Trumbull Day is a fun-filled family event with food, vendors, carnival rides and games, children's entertainment, a main stage featuring local bands and fireworks.
Candlewood Lake Fireworks
Fireworks over the lake. Must pay if you don't have season pass.
Tuesday, July 2nd
4th of July Fireworks in Vernon
Wednesday, July 3rd
Norwalk Summer Concert Series and Fireworks
Magic Show, Live Music and then Fireworks!
Naugatuck's 4th of July Fireworks Celebration
Entertainment, food, and a variety of family oriented activities before the fireworks.
Town of Killingly Red, White and Blue BBQ and Fireworks
Free fun run, chicken BBQ, live music and fireworks at 9:15pm.
Shelton Riverwalk Fireworks
Concert held before the fireworks.
Stratford Fireworks
A concert will be on the Deck near the concession stand at 7:00 pm. Lynn Lewis will perform at 7:30 pm at Gull's Landing miniature golf course for the kids. There will also be face painting and a moon bounce located at the mini golf course.
West Haven Independence Day Fireworks Show
The region's largest Independence Day fireworks show off Bradley Point.
Danbury Fair Fireworks
The concert and inflatables fun will start at 8:00 pm.
Bridgeport Bluefish Fireworks
After the game, stick around for fireworks.
Westport Fireworks
Tickets required prior to show. There will be a concert.
 
Thursday, July 4th
4th of July "3-D" Fireworks at Quassy Amusement Park in Middlebury
Fourth of July Fireworks at East Rock Park in New Haven
Festivities begin at 4pm.
Weston Fireworks
Barbecue and music preceed the big show.
New Haven Fireworks
Wilbur Cross High School at 9pm.
New Canaan Fireworks
Will include food, drinks, and ice cream, as well as music, children's inflatables, and a performance by the magician, The Great Sirico.
Fairfield Fireworks
From a barge off of Long Island Sound so the show can be seen easily from either Penfield or Jennings Beaches. Music begins at 5pm.
Ridgefield Fireworks
Ridgefield High School at dusk.
Wilton Fireworks
Live bands perform before show.
4th of July Celebration in Washington, CT
Must have a parking pass prior. Food available or bring picnic.
RCA Concert and Fireworks
Open to all, non-residents pay $25. On Bayley Beach.
Waterbury Fireworks
Municipal Stadium at 9:15.
Madison Fireworks
Held on waterfront area off West Wharf Beach.
New Preston/Lake Waramaug Fireworks
New Britain Fireworks
Stanley Park. Carnival and live music starts at 5; fireworks at 9:15.
Friday, July 5th
Lake Compounce 4th of July Fireworks
Fireworks free with park admission.
New Milford Fireworks
Hop a ride on a fire truck and enjoy live music before the show.
Norwich 4th of July Extravaganza
7pm at the Marina at American Wharf.
Saturday, July 6th
Stafford Springs Fireworks
Music, bounce houses, contests, food, games and of course, fireworks!
Riverfest and Fireworks at Mortensen Riverfront Plaza in Hartford
Riverfest features free entertainment including a water ski show, lumber jack competition, live bands, amusements, kids' activities, great food and more.
Manchester 4th of July Celebration
Manchester Community College; children's activities and live music before the show at 9:30.
Riverfest and Fireworks at Great River Park in East Hartford
Greenwich Point Park Fireworks
Must have pass prior to attending show.
Binney Park Fireworks
Live music before show.
Torrington 4th of July Fireworks
Carnival rides, music, loads of fun before the show.
Wallingford Annual Fireworks Display
Sunday, July 7th
Enfield 4th of July Town Celebration
Weekend long celebration culminates with fireworks on Sunday night.
Friday, July 12th
Windsor Locks
Veteran's Memorial Park at 9:30.
Saturday, July 13th
Lime Rock Park Fireworks Extravaganza
Bring your own picnic and enjoy the show.
Sailfest in New London
Showcasing the 4th largest fireworks display in the Northeast.