Flash Gordon and the Heroes of the Universe
When:
Saturday, September 22, 2012 at

Various times

Repeating

every day

through

November 14, 2012 .

Where:
Stamford Museum & Nature Center 39 Scofieldtown Rd, New York CT 06903
Cost:
Members: Free | Non-Membe
Contact:
Registrar
Website:
http://www.stamfordmuseum.org
Ages:
All Ages
Add to cal:
Google Yahoo iCal/Outlook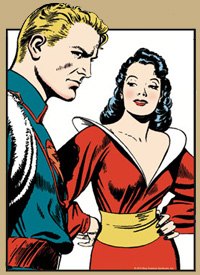 Saturday, September 22 - November 14, 9am-5 pm
Flash Gordon and the Heroes of the Universe showcases artwork by two of the finest Flash Gordon illustrators, Alex Raymond and Al Williamson, as well as numerous other science fiction cartoonists. The artwork and memorabilia on display, representing space adventure creations from Buck Rogers to Star Wars, provides evidence of the significant impact that these heroes of the universe have had on American culture. Members: Free | Non-Members: Free with gate admission. For more information call 203.322-1646, e-mail info@stamfordmuseum.org, or visit www.stamfordmuseum.org
* * * * Stamford Museum & Nature Center is dedicated to the preservation and interpretation of art, the natural and agricultural sciences, and history. The Museum is a vital cultural and educational resource for the community, and a focal point for family activity through exhibitions, educational programs and special events.
Filed under: