Corn Mazes with the Kids in Fairfield County, CT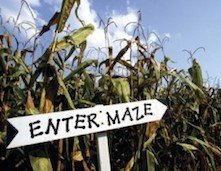 A trip to a corn maze is one of my favorite fall activities. I love any excuse to get out there and enjoy a nice day. There's something so special about a corn maze because farms have to do some serious planning to design, grow and harvest the crops in just the right way for the maze to be successful. Going through a corn maze also gives you one of those rare opportunities to safely hand over the reigns to your child and let them be in charge of where to go and how to find the way out. What better way to bond than to band together and head straight into something where you know you can get lost and the only way out is to concentrate on the map, read the clues and work together to get to the other side. Combine your trip with a pumpkin patch and cider mill and you've got yourself a pretty excellent fall day to make lifelong family memories. Residents of lower Fairfield County have to be prepared to travel a bit to get to one of the three we've found, but bear in mind, the farms all have lots of other goodies available -- pumpkins, hay rides, cider, and/or mums -- all that fantastic fall stuff! For more fall fun, check out our CT Fall Fun and Halloween Guide. Corn mazes puzzle us with just the right mix of fresh air and frustration, so you wont be sorry if you grab some cider and get lost in one. These corn-y masterpieces are only around for a few weeks each fall so don't miss your chance! For even more ideas in your inbox, sign up for our weekly newsletter. 
Plasko's Farm draws thousands of visitors to its 8-acre site in Trumbull each year. They may just be the oldest running corn maze in Fairfield County. Plasko's opens their corn maze early September. The maze is open 7 days a week from 10:00 - 5:00pm and runs until the beginning of November. The corn field is four and half acres and the path in Plasko's maze twists and turns for about about 1.5 miles, so be prepared for an active day. They go the extra mile and donate a portion of each $7 ticket ($6 for kids 4-10, 3 and under are free) to Swim Across the Sound cancer prevention and education programs. This maze is dense, and in case you get lost, they've got 'corn cops' to help guide you out or escape hatches for any tykes freaking out about being children of the corn or those in need of a bathroom break. Plasko's also offers pumpkins, cider donuts, mums, hayrides, farm animals, a country store and farm market.
Plasko's Farm, 670 Daniels Farm Rd., Trumbull CT, 06611, 203-268-2716
Castle Hill Farm's 7-acre, 400,000 stalk maze will a-maze you. This family run farm even made a national Top 12 list of Best Corn Mazes for their enormous maze nestled among fall foliage in a bucolic setting. Opening day is on September 27th and runs through October 30th. Admission is $8.50. They are open on weekends from 10:00-5:00pm, and during the week from 2:00-5:00pm. If those times don't work for you, you can call the incredibly nice owners who will gladly work with you to try and accommodate your request (for example, they'll open up in the morning during the week if you have a large enough group... just call). You can also book a private bonfire which comes with the use of a large, lit tent, hayrides and an evening trip through the corn maze (call for pricing). Once you're inside the maze itself, they make it your mission to find 30 facts along the way so the entire experience is one where you can have fun, learn and get lost all at the same time. Castle Hill also has some seriously cute farm animals for your kids to see before and after the maze and the hand washing stations and port-a-potties are a plus.
Paproski's Castle Hill Farm, 25 Sugar Lane, Newtown, CT 203-426-5487
Jones Family Farm's Pumpkinseed Hill has all sorts of fun fall festivities going on, and they don't disappoint when it comes to the corn maze. The maze at Jones Family Farm is geared toward families with younger kids, so it only takes about 20 minutes from start to finish. This short maze is the perfect "starter" corn maze for little ones who may be up for the adventure, but not a super long walk. The cost is typically a few dollars per person. Jones Family Farm is open every day, but the corn maze is only open on weekends and Columbus Day. The maze opens for the season on September 26th. When you're done with the maze, be sure to check out the cider and cookies, farm animals, hayrides and children's music in the Market Yard.
Jones Family Farm, 120 Beardsley Road, Shelton, CT 06484, Farmer Jones Crop Line (203-929-8425)
Lyman Orchards is not in Fairfield County, but if you're piling in the car anyway, you might want to drive a little farther to this wildly popular corn maze in Middlesex County. This year's corn maze design features The Beatles, carved into 4 acres of corn with over 2 miles of paths - don't worry, they also have 'corn cops' to help out in case you get lost. On weekends and holidays, they also have pony rides and horse-drawn wagon rides. The maze is open from 3:00-6:00pm on Monday through Friday, and from 10:00-6:00pm on Saturday and Sunday wth the last entrance at 5:30. Admission is $5 for children ages 4-12, $10 for adults ages 13+ and free for kids 3 and under. $1 from every admission is donated to the American Cancer Society. The corn maze opened for the season on August 29th and runs through November 1. Check their website for coupons or buy tickets online to skip the lines (and check out the cool YouTube video of this year's corn maze while you're at it). When you're done roaming the corn maze, you can check out pick-your-own apples and pumpkins, since both will be in full swing through the end of October. They even have a 3 separate golf courses, including a 9 hole, par 29 course (meaning it's short and easy) for under $20 per golfer, just in case golf is your family's thing and you want to throw in a round while you're there. Before you leave, do not miss Lyman's Apple Barrel Market. It's what would happen if a farmer's market and a supermarket had a baby, and that baby was filled with award-winning fresh baked pies, cider donuts, farm fresh fruits and veggies, soups, sandwiches and salads. 
Lyman Orchard's, 32 Reeds Gap Rd, Middlesex CT, 06455, 860-349-1793
Originally published 9/26/12.