Cooking Classes with Kids in Fairfield County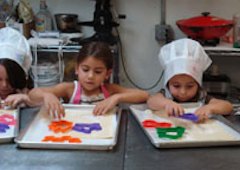 Have a young chef in the house or perhaps a baker in the making? Encourage their passion by signing up for a fun cooking class. Your child will learn new skills and perhaps share them with you during the next meal time. Win win for all around! Check out these classes in Fairfield County and for more after school class ideas check out our guide.
Michelina's Bakery, Wilton, CT
Who wouldn't want to spend an afternoon in this delectable spot?  Michelina's hosts kid's birthday parties, where kids get to make enormous batches of sugar cookie dough, then roll cookies out, decorate them, and cook them.  And eat a few, of course.
126 Old Ridgefield Road, Wilton, CT 06897 203.834.2253
Local Farmer's Markets
Check to see where and when farmer's markets in your area are up and running - you'll find that many run through the winter season as well!  
Aux Delices, Greenwich, CT
Popular chef Debra Ponzek's market, Aux Delices, offers cooking classes for kids (and adults):
3 West Elm Street, Greenwich, CT 06830 203.326.4540 
The Kiddie Kitchen, Norwalk, CT
This program, run by chef Neena Perez, brings the cooking to you.  Sign up for a cooking class, party or even summer camp.  Based in Norwalk, CT, the organization will travel up to 80 miles to reach you.
501 Westport Avenue, #294, Norwalk, CT 06851 203.347.8225 
Edible Nutmeg
This Connecticut Magazine is dedicated to celebrating the food resources of CT.  Check it often for recipes, events and great information on local food
Two more great online sources for cooking with kids are Eila Johnson's Full Plate Blog, and Jennifer Spaide's Simplicious Magazine.  Both of these Fairfield County cooks/moms are focused on creating nutritious, time efficient, and appealing meals for their young kids.
Open Door Shelter Soup Kitchen
Take your child to volunteer at this much needed soup kitchen.  With 95 beds filled every night, and a kitchen serving three meals a day, the Open Door Shelter is always looking for extra hands.  
4 Merritt Street, Norwalk, CT 06854 203.866.1057 
Bon Appetit!
Originally published on 1/14/2012.