Great Birthday Party Venues for Kids in Connecticut (Fairfield County)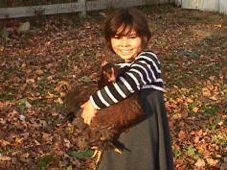 In our house the kids' birthdays fall in April, May and June.  So right around March 1st, I start my annual birthday party panic.  While I love having kids' parties at home, I often decide to have one of my three parties at another venue in the hopes that, when the birthdays are through, I will have some semblance of sanity remaining.  Happily, Fairfield County offers numerous places where one can hold a great kid's party. For even more party ideas check out our Party Guide!
The Cookie Workshop, Trumbull, CT
Make and decorate cookies, as well as a cookie box.   This bakery is nut free, which makes it a great option if you are hosting kids with allergies.
100 Corporate Drive, B 104, Trumbull, CT 06611 203.452.8872
Let's Dress Up, New Canaan, CT
Little girls will love all the dress up clothes, make up and nail polish, coupled with a fancy tea party.  Lovely, dahhhhling!
111 Cherry Street, New Canaan, CT 06840 203. 594.7012
My Three Sons, Norwalk, CT
Super fun arcade that works for all ages; younger kids can stick to the arcade games, older kids can play laser tag and other interactive games.  Be prepared to spend a little extra time with your child as they cash in their tickets at the penny candy counter…
62 Wall Street, Norwalk, CT 06850 203.838.3013
Mead Farm, Stamford, CT
For your horse lover - have a party at the farm. Pony rides and everything horsey is provided at Mead Farm, voted best horse back riding in the area.
107 June Road  Stamford, CT 06903 203.322.4984
Kids U, Stamford, CT
Indoor gym space with inflatables and slides.  Great for running off some pre-cake energy!
633 Hope Street, Stamford, CT 06907 203.358.9500
Pump it Up, Norwalk, CT
Another great indoor gym space with inflatable structures.   More suited for the 7 and up crowd, in my opinion.
145 Main Street, Norwalk, CT 06851 203.838.5867
Hands on Pottery, Fairfield, CT
Paint your own piece of pottery…
1700 Post Road, Fairfield, CT 06824 203.319.1273
Art and Soul, New Canaan, CT
Another paint your own pottery place…they offer beading here as well.
80 Main Street, 2nd floor, New Canaan, CT 06840 203.972.1610
Rip van Winkle Bowling Lanes, Norwalk, CT
Bowling is always a hit!  Tough for the under 5 crowd, though doable, if that's what your youngster's heart is set on.
701 Connecticut Avenue, Norwalk, CT 06854 203.838.7501
Pied Piper Pony Rides
Great for animal lovers! This organization will bring small farm animals to your home - well, yard - …and you don't need a lot of space to accommodate the animals.  We've had them come with two bunnies, a baby goat and a pony – a huge hit!  And super easy.
203.431.8322
Darien Nature Center, Darien, CT
Sticking with the animal theme, try the Darien Nature Center.  After an outdoor scavenger hunt, the kids will be enchanted with the animal encounters, where they will meet a hedgehog, snake, and rabbit, among others. 
120 Brookside Road, Darien, CT 06820 203.655.3185
Norwalk Maritime Aquarium
Bring the aquarium to you!  The Norwalk Martitime Aquarium's crab and critters party is delightful…the aquarium will send staff to your house with a selection of…well, crabs and critters!  The staff will stay for 45 minutes, and kids will learn about the animals, touch them and hold them.
10 North Water Street, Norwalk, CT 06854 203.852.0700
Fuji, Darien, CT
A big hit amongst my 8 year olds friends has been a small birthday outing to a Hibachi Grill.  One of my favorites?  Fuji in Darien, CT.
11 Old King's Highway North, Darien, CT 06820 203.655.4995
My Gym, Stamford, CT
A great tumbling gym particularly well suited for the toddler crowd.  The staff is excellent and the kids will have a blast!
7 Hyde Street, Stamford, CT 06907 203.327.3496
Stamford Twin Rinks
Nothing quite like a skating party to tire out a bunch of kids.  Stamford's Twin Rinks will do just that!
1063 Hope Street, Stamford, CT 06907 203.968.9000
Here's the Party, Shelton, CT
They have a party room and will decorate it according to your theme. They have themed packages that they offer. Parties run for 2 hours and include a party planner to setup, run and clean up your event!
549 Howe Avenue, Shelton, CT 203-924-5559
I hope this list helps alleviate any birthday stress you may have.  Happy birthday to your youngster, and enjoy the party!
Originally published 1/30/12.