10 Things to Do with Your Kids This Spring in Litchfield County, Connecticut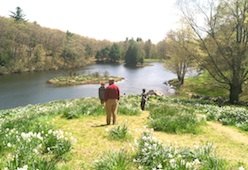 It's almost Spring as we can see by the forsythia buds and daffodil's starting to peep. Litchfield County is known for its natural rural beauty and these coming weeks will bring on a beautiful show. This time of year I love to prune a few forsythia branches and bring them inside to enjoy the blooms up close. With the warmer weather it's a great time to get out and do some nature inspired activities with the kids. Here's a list of 10 things to do in Litchfield County this Spring.
 
1. Visit 21 different birds of prey at Audubon Sharons' Raptor Center including a bald eagle and great horned owl. Take a hike through one of their many beautiful nature paths. Head into the museum to see more fun animals and areas to play.
2. Visit a model solar system that scans six miles built to scale at the John J. McCarthy Observatory in New Milford.
3. Go geocaching at the Little Pond Loop Trail at White Memorial Nature Center.
4. On a Saturday afternoon go for a farm tour at the lovely Arethusa Dairy farm in Litchfield. Make sure to stop and get a home-made ice cream in a freshly made waffle cone at their new dairy store at 822 Bantam Road in Bantam. 
5. Take the little ones to story hour at the Litchfield Hills Farm Fresh Market and then shop at this comprehensive outdoor market for local fresh produce along with local jams, granola,salsa, bread etc.
6. Visit the daffodil display on Wigwam Rd in Litchfield in April. The photo of this post was taken there last Spring. It's a lovely daffodil garden that began in the 1930's and covers a few acres, including the little island in the middle of the pond. 
7. Get centered while walking a 7-circuit labyrinth at the Wisdom House in Litchfield.
8. See a live snake habitat and fluorescent rock cave in the children's room at White Memorial Nature Museum and then take a hike along a boardwalk trail though a wetland environment.
9. Visit the 7 acre peony festival at Cricket Hill Garden in Thomaston.
10. Visit the Sloane Stanley Museum in Kent where you can see the prolific artist Eric Sloane's studio re-created to the detail as well as visit the Kent Iron Furnace museum next door. 
Originally published 3/31/12.