Youth Volunteer Opportunities in Hartford County, Connecticut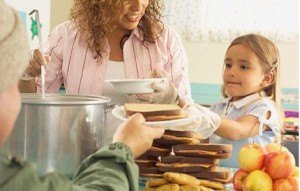 This time of year can be the perfect opportunity to teach your children about the true meaning of giving. Volunteering teaches children that others may not be as fortunate to have a warm home, food, clothes and good health. Show them what it means to give back by volunteering your time and helping others who may be in need. Following is a list of places in Hartford County where you and your family can volunteer and help to spread some holiday cheer. We've also written about opportunities in Litchfield County as well.
Spend some time with the elderly. Play games, read them a book or just sit and talk together. Many of them may not have any family and a visit from someone during the holidays will be much appreciated. I remember being part of a teen group that went to the local senior home to sing Christmas carols. The smiles on the residents'  faces still sticks with me today. Jerome Home in New Britain is a place to try. For more information, contact Rita Nadeau-Breive at 860-229-3707.
Volunteer your time at a soup kitchen that may be looking for help with serving a hot meal to the needy. Many soup kitchens are seeking help with set up, meal prep, serving, or clean up. The Manchester area conference of Churches is a soup kitchen in Hartford County that is currently looking for volunteers. Or help out at the Enfield Loaves and Fishes soup kitchen. They serve a hot meal weekdays from 4-5 p.m. and volunteers are welcome Monday-Friday from 10- 6 p.m. to assist with cleaning, answering phones, prep, food pick-up and more.
Organize a drive in your town, anything from a food drive, toys, teddy bears for the local hospital, care packages for the military, or holiday cards for senior homes. Get a group together, pass out fliers or spread the word at your child's school or church. Having your child lead a community drive is a great way to give back.
Gone are the days of the "candy stripers" but your child can still volunteer at the local hospital…only without the striped outfit. The Hospital of Central Connecticut has volunteer programs for teens ages 15-18. Call the hospital at 860-224-5231 for more information.
Make a difference and help those in your community this holiday season while teaching your children valuable life lessons.
Originally published 11/12/12.