Winter Boat Cruises in CT: Seal and Eagle Watching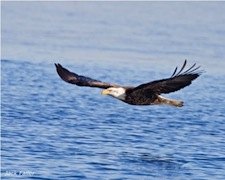 The snow is blowing, the temperatures are dropping, wind is howling – sounds like the perfect time for…a boat cruise?  Yup, you read that right…the coming months are the perfect time to hop aboard a CT boat cruise to check out the native wildlife.  Starting in December, harbor seals head down from northern waters to enjoy the restored feeding grounds of the Long Island Sound.  Along the CT River, bald eagles can be sighted soaring above.  Not a naturalist?  Opt for one of the boat cruises that offers free coffee throughout the tour….
Eagle Boat Cruise offered by the CT Audubon Society, Haddam, CT: This educational cruise lasts approximately 2 hours and runs $40/ticket.  The boat will travel on the lower CT River and naturalists will be aboard to help identify bird species and educate travelers on the wildlife.  The Eagle Boat Cruise program runs February 9th – March 13th, and boats depart on Thursdays at 10AM and 1PM, and Saturdays and Sundays at 9AM, 11:30 AM, and 2PM.  Happily, the boats offer heated cabins in addition to their open decks!  Reservations are strongly encouraged, children must be 8 and up, and boats depart from Eagle Landing State Park, Route 82, Haddam, CT, 06438, 860.767.0660
Thimble Island Seal Cruise, Branford, CT: Beginning March 2nd and running through mid-April, nature lovers can hop aboard the 44-foot Sea Mist for an hour and a half cruise in the Long Island Sound.   Seals frequent the area beginning in December, and passengers have been lucky enough to spot other marine wildlife as well.  The cruises run Saturdays and Sundays (check their website for the times) and tickets are $15/adult and $10/child (under 12).   Call for reservations.  Stony Creek Dock, 30 Indian Point Road, Branford, CT, 06405, 203.488.8905
Eagle Watch Boat Tours, CT River Museum, Essex, CT: Head to Essex to board the CT River Museum's 65-foot research boat to enjoy a cruise and a naturalist's overview of the CT bald eagle population.  Tickets are $40 each, and children under 6 are not permitted.  The boat has a heated cabin, as well as a deck for viewing wildlife.  Tours run from February 1st to March 17th, on Fridays at 1PM and Saturdays and Sundays at 9AM, 11AM, and 1PM. 67 Main Street, Essex, CT 06426, 860.767.8269
Winter Creature Cruise, Maritime Aquarium, Norwalk, CT: Dress warmly for the Norwalk Maritime Museum's Winter Creature Cruise!  Tickets run $20.50 and will get you an approximately 2.5 hour cruise on a 40-foot boat.  On board, you'll learn about the local sea life and eco-system.  Departure times are tide dependent, so check the museum's website.  Reservations encouraged and participants must be at least 42" tall. 10 North Water Street, Norwalk, CT 06854, 203.852.0700, x 2206
Oceanology Project's Winter Seal Watch, Groton, CT: Heard north to Groton for one of the Project Oceanology's Winter Seal Watches.  Tickets, which are $25/adult and $20/child (children under 6 not permitted on the boat), will get you a 2.5-hour adventure, which includes a presentation on seals, followed by a boat tour to catch sight of the marine mammals.  The boat has a heated cabin (phew) and tours are available Saturdays in February, and both Saturdays and Sundays in March.  Reservations are required. 1084 Shennecossett Road, Groton, CT 06340, 860.445.9007
A winter boat outing in CT...now that's showing winter who's boss!