Where to Meet Santa Claus in Fairfield County, CT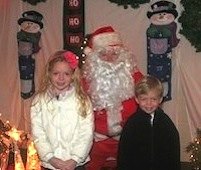 Oh, how I've dreamed of that iconic child-with-Santa photo that I could drop into our annual holiday card!   But sadly, it's not to be yet again this holiday season. Nope, I"ve got a five year with an acute case of  Santa-phobia.  With no recovery in site.
But happily for the rest of you,  Santa Claus is coming to town!  Er, towns, that is.  Yes, there are lots of towns in Fairfield County where you can and your kiddos can visit with Santa.  And please, when you visit with him, put in a good word for my family! For loads more holiday fun check out our Holiday Fun Guide.
Stamford Town Center, Stamford
Santa's visiting hours are Mondays through Saturdays from 10am-9pm, and Sundays 11am-6pm.   Santa does take breaks for lunch and dinner, so time your visit accordingly.  
100 Greyrock Place, Stamford, CT, 06901
Danbury Fair Mall, Danbury
At the Danbury Fair Mall, visit with Santa Mondays-Thursdays between 10am-9pm, Fridays and Saturdays between 10am-9:30, and Sundays 11am-7pm.  Santa takes breaks from 1pm-2pm, and 4:30pm-5:30pm.  On Christmas Even, Santa is on site from 9am-6pm, with a break from 1pm-2pm.  
7 Backus Avenue, Danbury, CT, 06810, 419.601.4960
Santa's Arrival at Sherman Green, Fairfield
Santa arrives by hook and ladder to Sherman Green on the Saturday after Thanksgiving. Every child receives a gift, compliments of the Chamber of Commerce.
Sherman Green Gazebo Intersection of Post Road and Reef Road, Fairfield
McArdle's Florist and Garden Center, Greenwich
Visit with Santa - and his reindeer! -  at McArdle's Florist and Garden Center now through Christmas Eve. Santa's visiting hours at Mondays through Fridays, noon-5:30pm, Saturdays, 9am-5:30pm and Sundays 9am-4pm. The reindeer are fed daily at 9am and 4pm.  
48 Arch Street, Greenwich, CT, 06830, 203.661.5600
Weed and Duryea, New Canaan, CT
Waiting for info.
21 Grove Street, New Canaan, CT, 06840, 203.966.2673