Weekend Fun for Connecticut Kids: Day Out with Thomas, Aquariums & Earth Day April 18-19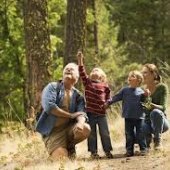 At long last spring has sprung! It's been such a joy to dig out the scooters and bicycles buried deep in the garage behind the snow shovels and ice melt, and actually spend time outside... without a coat!
If you're interested in discovering a new-to-you destination this weekend, we posted about a wonderful road trip to Granby and, a bit further east, the retro Shady Glen Diner. If you have a child with special needs, be sure to check out our post on activities for children with special needs in Central Connecticut.
Remember, our Event Calendar is constantly updated with the best activities around the state. To keep up with everything going on in CT for kids, subscribe to our FREE newsletters, and follow us on Facebook, Twitter and Pinterest. Here's wishing you a fantastic weekend!
All Weekend 
National Park Weekend at Weir Farm (Fairfield County) 
Head to the only National Park in Fairfield County as they return to full service after the long, cold winter. The popular Junior Ranger program will be back, as will the Take Part in Art program (both of which return to the regular spring/summer schedule on May 1st). Note: Parking is available at Branchville Elementary School, with free shuttle service to Weir Farm all day. Free.
Day Out with Thomas at the Essex Steam Train (Middlesex County) 
This annual event in Essex is a must visit for fans of Thomas, Percy, and the other engines visiting from Sodor. In addition to plenty of steam and diesel fun, the day includes carnival rides, face painting, storytelling, and more
Educator's Weekend at Mystic Seaport (New London County) 
Are you a teacher? Grab your ID and head to Mystic Seaport where you and your family (up to 4 people) will enjoy free admission all weekend. There are special workshops for teachers to learn more about the Seaport, in addition to all regularly scheduled activities. Pre-registration recommended.
Eco Splash at Mystic Aquarium (New London County) 
Mystic Aquarium is celebrating Earth Week with special programming through April 22nd. Over the weekend, Horizon Wings Raptor Rehabilitation will be on hand with Atka, a bald eagle.
Saturday, April 18
Feeding Time at Maritime Aquarium (Fairfield County) 
What do sharks eat for breakfast? Find out at this fun new program at the Maritime Aquarium in South Norwalk. Families (children must be age 5 and up) are invited to enjoy a breakfast buffet followed by a unique tour that includes harbor seals, rays, and sharks enjoying this most important meal of the day. Reservations are required.
Avon Library's Comic Convention (Hartford County) 
Do you have a child who is a gamer or loves comic books? Then head over to the Avon Public Library for the first Avon ComicCon for a day full of workshops, lectures, and vendor exhibits. Free, but some programs require pre-registration.
Jim Henson's Dinosaur Train LIVE (Hartford County) 
"Once up a time, there was a mom; Her name was Mrs. Pteranodon..." Alas, my kids have outgrown the special pleasures of "Dinosaur Train," but I confess that I'm tempted to take them on this interactive and immersive live trip back in time to an age when dinosaurs roamed the earth....and rode in trains. (If you're in Fairfield County, this show will also be at The Palace on Friday, April 24th.)
Plants and Pollinators (New London County) 
Denison Pequotsepos Nature Center in Mystic has many wonderful programs this spring for kids and adults to get back outside into nature. This program allows families a chance to explore the spring meadow together, looking for native pollinators including bees and butterflies. (Younger children may prefer the Trailside Stories program, which is held earlier in the day.)
Bluff Point State Park Spring Cleanup (New London County)
Celebrate Earth Week by getting out there and making a difference in this annual coastal clean up project. The Mystic Aquarium will provide cleanup supplies and have marine biologists on hand to answer questions about the animals who call this region home. Free, but pre-registration is suggested. 
Lyman Orchards' Spring Apple Hunt (Middlesex County) 
What happens at an apple orchard in the spring? Reserve a spot in this event at Lyman Orchards and find out! Kiddos can search for apples in a hay maze, get their faces painted, watch a magic show, enjoy a pony ride, and participate in craft activities. Reservations are required.
Sunday, April 19
All Things Green Festival (Fairfield County) 
How's your ecological IQ? Celebrate everything sustainable and environmentally conscious at Darien Library where kids can compete in a Darien Green Organization Scavenger Hunt, plant sunflowers, create garbage arts and crafts, and learn more about what to recycle and what to trash. Free.
Family Nature Play (Fairfield County) 
The Garden Education Center of Greenwich invites children of all ages and their families to explore nature with a themed science search or challenge. There will also be crafting and construction tables available.
Textile Arts Day (Hartford County) 
No need to travel all the way to Williamsburg when the Welles-Shipman-Ward House in South Glastonbury is always bringing history back to life right here in Connecticut with demonstrations and workshops about historic trades and crafts of early America when many textiles were handmade.
Spring Tails and Tales for Children of All Ages (Windham County) 
The Connecticut Forest & Park Association leads this special storytime for all children on the Goodwin Forest's Airline Trail where you can bring along a favorite stuffed animal to read and share spring stories. The event concludes with a 1.5 mile hike. Free, but pre-registration is required.