Things To Do With Kids in CT This Weekend January 5-6: Lighthouses, Camels and Polar Bear Run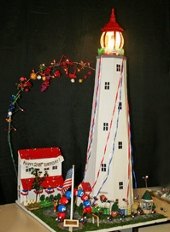 The new year is upon us and many Resolutions are being made.   I've read many blogs in the weeks since the tragedy in Newtown of individuals and families inspired to perform 26 Random Acts of Kindness.  A few days ago I read a post that intrigued and inspired me.  The author suggested taking the new year as an opportunity to encourage children to find ways to be kind to others.  So this year in my family, in addition to making a New Year's Resolution, we are going to find ways to perform random acts of kindness to others throughout the year.  I believe that this will not only benefit others, but will help to instill thoughtfulness, kindness and concern for others as part of my children's everyday thoughts. Doing something worthwhile for those in Newtown is one great way to get started.
With the cold weather upon us, its the perfect weekend to consider some fun indoor activities with the family.  We've created a Winter Fun Guide that includes both indoor and outdoor locales like ski destinations, iceskating rinks and sugar houses to have family fun. For indoor fun this weekend check out the Let It Snow! Children's Book Art Exhibit at the Bruce Museum in Greenwich.  This family friendly exhibition of winter scenes from children's books features more than 30 original artworks from favorite illustrators.
Stop by the Wilton Library for their free Jack Frost and Fairy Doll Workshop where kids will use flowers, cloth, beads and other materials to make dolls to take home.
Bundle up the family for a guided Winter Walk Along Butternut Brook with the White Memorial Conservation Center in Litchfield on Saturday afternoon. The walk is free of charge, but donations are accepted to help support the conservation center's programs.
Interested in taking the kids out on a snowshoe or cross country ski excursion? We've rounded up some ideal places to enjoy the outdoors this winter in Litchfield County.
The Festival of Lighthouses continues at the Maritime Aquarium in Norwalk through January 21st.  This special exhibit features 22 homemade lighthouse displays. Aquarium visitors will follow these hand crafted beacons through the galleries and vote for their favorite. While you're there, you can observe a Shark Dive  and communicate with the dive team as they swim inside the shark exhibit.
Home Depot stores offer free workshops for kids age 5-12 the first Saturday of every month.  Visit the website for a location near you and to reserve a space.  This month the kids will be making birdhouses. 
Are you up a challenge this weekend?  Kids age 4-13 will have a blast navigating through land and water obstacles and relays at the Tuff Kids Polar Bear Run and Plunge in West Hartford to benefit the Juvenile Diabetes Research Foundation.  Also in West Hartford on Saturday, The Polar Bear Fair offers wagon rides, winter games and a marshmallow roast.
Rev up for non-stop fun with four of your favorite Disney stories when Disney On Ice presents Worlds of Fantasy at the Webster Bank Arena in Bridgeport. 
Live camels will be among the things to see at the free Three Kings Day Parade in Hartford on Sunday morning. 
The Baby Grand Jazz Series at the Hartford Public Library on Sunday inspires all ages with music and celebrates local artists. 
Your family can pretend it's summer for a few hours at Coco Keys in Waterbury this winter.  We've written up a post on what you can expect from your visit to this indoor waterpark where it is always a warm and sunny 84 degrees.
Like us on Facebook and follow us on Pinterest and Twitter for informative updates.  We add new events to our event calendar every day so be sure to check it often. 
Happy New Year to you and may 2013 bring much happiness to your family as you create memories together. We're proud to say that Mommy Poppins CT grew 200% in 2012 and we hope to do the same in 2013. We look forward to inspiring and helping parents all over Connecticut as they search for cool things to do with their favorite little people this year. Thank you for being part of our tribe!