Things to do on Martin Luther King, Jr. Day in Hartford County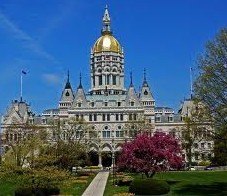 Most schools are closed for Martin Luther King Day on Monday, January 20th so you might be looking for something to do with your children on this cold winter day off. Luckily, there are many options in Hartford County to help entertain you and the family so that you're not left bored in the house! Honor Martin Luther King with one of these great events. Just in case you are in Fairfield County check out these MLK events too.
The Wadsworth Atheneum in Hartford is hosting a special event where you will be able to enjoy an artful celebration in honor of Martin Luther King Jr. and other peaceful activists. Explore art and history through interactive gallery tours, live music from the 1960s, hands-on art-making activities, a collaborative time capsule project and much more!
600 Main Street Hartford, CT 06103
The Martin Luther King Day Open House at the Harriet Beecher Stowe Center in Hartford connects the past to the present through inspiring stories of two of America's most prominent social activists, Harriet Beecher Stowe and Martin Luther King, Jr. In honor of the day, the center is offering free house tours all day long.
77 Forest Street  Hartford, CT 06105
The Mark Twain House is offering free tours to Hartford residents from 9:30-5:30 with the last tour at 4:30 pm. Residents should bring along proof of residency.
351 Farmington Avenue Hartford, CT 06105
If you want to stop for lunch, also in Hartford, is a great little restaurant called Woody's. They are known for their selection of hot dogs and fun variety of toppings like the Deputy Dog that has BBQ pulled pork and cheddar cheese on it or the Dog Father that has peppers, mozzarella cheese and marinara sauce. What kid doesn't like hot dogs?! But if they happen to not be a fan the menu also features things like grilled cheese, fries, chicken sandwich or burgers.
915 Main Street  Hartford, CT 06103
The Veterans Memorial Skating Rink in West Hartford is open for public skating from 12:30-2 pm, 2:15-3:45 and 4-5 pm.
56 Buena Vista Road  West Hartford, CT 06107
West Hartford is holding their 18th annual Martin Luther King Jr. Day Celebration on Monday from 10-11:30 am at the town hall auditorium. There will be various student and adult speakers, performances by the local town students, and refreshments.
50 S Main St # 2  West Hartford, CT 06107
The state's 28th annual Martin Luther King Jr. Day Celebration will be held at the Hall of Flags in the Capitol Building at 11 am - 1pm. A replica of the Liberty Bell will be rung following the ceremony.
210 Capitol Avenue, Hartford, CT 06106
Originally published 1/12/13.