Summer Sports Camps in New Haven County, CT: Gymnastics, Squash, Tennis, Baseball and Ballet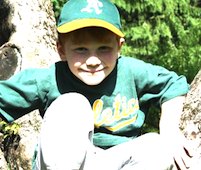 Before we know it, summer will be here! I know, it seems like just yesterday we fought back a tear putting our tots onto the school bus for the first day of school. Now we are closing in on the end of the school year and Moms everywhere are beginning to think about how to keep the wee (and not so wee) ones busy. Summer camps have been the answer for generations, although now they are more specialized. For the sporty types, here's a list of summer camp options in New Haven County.
West Haven Parks & Recreation has two sports camp offerings for your children this summer! Their Boys Baseball Camp for ages 6 -13 is a two-week program where the basics as well as skill development will be taught. It is located at Noyes Field at Painter Park, and is 9am-12pm M-F.  Session 1 is from July 8-July 19, and Session 2 is from July 22-August 2.  The cost is $100 for West Haven Residents and $110 for Non-residents. Registration opens the 2nd of April. 
190 Kelsey Ave. West Haven, CT 06516 (203) 937-3651
US Sports Institute
This camp is sponsoring a sports program for our little ones, boys and girls ages 3-5. It is meant to be an overview of popular sports such as Soccer, T-Ball, Basketball and Hockey. Perfectly safe for 3-5 year olds, the activities are based upon popular preschool characters (Finding Nemo, Shrek and Sponge Bob feature prominently). The camp promotes hand-eye coordination, and blends it nicely with movement and balance. The cost is $75 dollars for residents of West Haven, and $80 for non-residents.  The camp takes place July 29th through August 2nd, from 5pm - 6p, at Painters Park in West haven. 
190 Kelsey Ave. West Haven, CT 06516 (203) 937-3651
"Double the Fun"
Milford Indoor Tennis and Trumbull Racquet Club is a summer tennis camp whose learning environment uses games to teach stroke development. This program is designed to introduce children to the game of tennis in a way that will foster an enjoyment for the sport. Call for prices.
580 Bridgeport Avenue, Milford, CT 06460 Milford: (203) 876-1776 and Trumbull: (203) 374-8622.
Summer Squash Camps at Yale
Using similar methods that are used with the Yale Squash teams, this camp aims to teach their campers about the game of squash and how they to train to peak performance. Courses are 2 weeks long. The first is June 23-28th and is priced at $1600 for overnight and $1000 as a day camper. Week 2 (Pre-season training) is from July 21st-26th, and the prices are also $1600 for overnight camper and $1000 for day camper. You can register online, but if you need more information please contact Pam at (203) 654-9327.
Payne Whitney Gymnasium 70 Tower Parkway New Haven, CT 06520.
New Haven Ballet Summer Programs
New Haven Ballet has 2 offerings of ballet camps for young children. The camp for ages 3-7 features dance, rhythm and music focusing on creative storytelling as well as crafts. Tuition is $90 per week. The Student Division Summer Intensives offers classical ballet training for ages 8+. There is also Open Division Summer Classes for students 16 years and older, with and without previous ballet, modern or jazz experience. These classes are offered at their studios on a drop-in basis.
70 Audubon Street, New Haven, CT 06510 (203) 782-9038
New Dimension Gymnastics
Session 1 of this 9 week series begins June 24-28th. Each week is themed to make it even more special. Themes include "Space", "Disney" and "Hollywood Week". The last week in the series is August 19-23rd. Children will, in addition to gymnastics, play games, make crafts and even have the opportunity to climb a rock wall! The Half Day option for ages 3 and up is from 9am -1pm. The price for 5 Day Camp is $210 per week and is for ages 5 and up. The hours are 9-4pm and the price for the camp is $295 per week.
 25 Lindeman Dr. Trumbull, CT (203)372-3222