Summer Festivals and Fairs in Fairfield County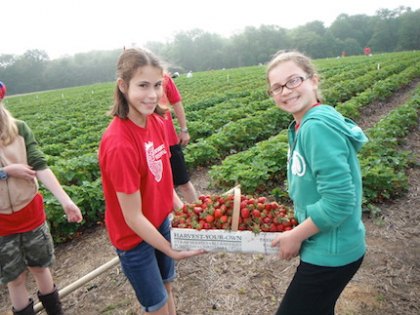 Day one of summer vacation and the score in this house is kids 1 million, mom 0. While I dreamed of three freshly scrubbed, idyllic children working together on community service projects and requesting additional math assignments, the reality is the trio argues over, well… everything. Who gets the pink spoon, who gets the cow mug, who gets to grab yesterday's mail out the box... and this is only the very first day of school break! Clearly, Operation Get the Heck Out of the House needs to be kicked into high gear. And what better way to keep kids of all ages and interests occupied than local fairs and festivals? If you're up for a day trip, we've rounded up fun summer fetes in Hartford and New Haven Counties as well as Eastern CT. But if you prefer a fest right here in your own Fairfield County backyard, read on.
Georgetown Day – Georgetown, CT
Sunday, June 14
This annual celebration kicks off with the Georgetown Gallop, a family friendly 5K for adults and kids, and then continues with live music, food, and arts and crafts.
Fairfield County Irish Festival – Fairfield, CT
Friday, June 19-Sunday, June 21
This three day festival includes Irish music, dancing, and entertainment as well as many activities geared not only for the kids but for the entire family. There are also rides and many unique crafting activities.
44th Annual Strawberry Festival – Monroe, CT
Saturday, June 20-Sunday, June 21
Celebrate strawberry season with this juried crafts show complete with strawberry shortcake, strawberry pie, children's games, and music.
Food Truck Rodeo and Music Festival – Stamford, CT
Saturday, June 20
Stamford jumps on the food truck bandwagon with this family-friendly event that includes every manner of food truck from Poutine King to the Buzz Truck. Admission is free for kids 13 and under and there will be bounce houses and children's activities.
Darien Sidewalk Sale and Family Fun Days – Darien, CT
Thursday, July 9-Saturday, July 11
Visit the Goodwives Shopping Center and merchants around Darien for a few days of shopping, live music, bouncy castles and lots of kid fun.  Food, fun, and bargains galore.
Bridgeport Arts Fest – Bridgeport, CT
Saturday, July 11
Local artists and craftsmen will populate the Bridgeport Arts Fest at McLevy Green.  The event is free to attend, and features original works by many artists, food vendors, and children's activities. 
Rowayton River Ramble – Rowayton, CT
Saturday, July 11
This 45th annual tradition is a day of fun and festivity for kids and adults. There are plenty of fun games and activities on Five Mile River such as the petting zoo, bouncy castle, giant water slide, obstacle course, face painting and the ever-popular dunk tank.
Village Fair and Sidewalk Sale – New Canaan, CT
Saturday, July 18
Sponsored annually for more than 50 years by the Chamber of Commerce, this fair offers local residents and regional visitors an action packed, bargain filled, entertaining, and delicious way to spend a summer day in one of the most charming towns in Connecticut. In addition to sales and discounts, there will be live music, magic shows, and face painting for the kids. 
Slide the City – Stamford, CT
Sunday, July 26
A green vinyl slide that's 3 football fields long wending through the streets of Stamford? This we've got to see. It's Slide the City's inaugural visit to Connecticut, and in addition to the slipping and sliding there's food and music as part of this completely unique kind of block party.
Originally published June 5, 2013.