Summer Camps in Fairfield County, CT: Art, Music, Nature, Adventure and Sports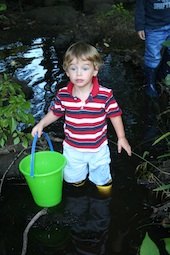 As I tunneled out of my driveway yesterday, snow shovel in one hand and hot coffee in the other, my neighbor called over to ask if I had signed up for summer camp yet.  I dropped my coffee, swore (only a little swear, really), and realized that, despite the snow and ice, summer is coming!  This year, I am determined to sign up for camps early to take advantage of the early registration discounts.  The Mommy Poppins CT Summer Camp Guide has tons of great camps listed. Here are some others that we are also considering:
Fairfield School of Music Summer Camp, Fairfield, CT: The Fairfield School of Music offers full and half-day camp for kids ages 3-17.   Camp themes include Music Immersion, Rock Band, and Songwriting.  Half days (10-12:30) will run you about $195, and full days (10-3) about $395. 
338 Commerce Drive, Fairfield, CT, 06825, 203.690.1888
Awesome Adventures Summer Camp, Ridgefield, WIlton, and Westport, CT: Drop your child off in at camp meeting points in Ridgefield, Wilton and Westport, where they will take camp bus to a nearby (within an hour) outdoor adventure destination.  Your child will have a chance to rock climb, hike, raft, or paddleboard in a nearby area with counselors.  One-week sessions are typically $600, and kids work in small groups of 6-15, with 2 adult counselors per group. 800.831.1273
Connecticut Friends School, Wilton, CT: CT Friends School offers summer programs for nursery aged kids all the way up to 8th graders.  The camp is offered for 6 weeks (you can do all 6 or sign up piece meal) starting June 25th.  A one-week session runs $414 if you register by April 14th, and $460 if you register later than April 14th.  Camp activities include art projects, Outdoor Education, crafts, games and field trips (for the older kids only). 
317 New Canaan Road, Wilton, CT, 06897, 203.762.9860
Housatonic Valley Waldorf School, Newtown, CT: Kids aged 3-12 can enjoy the Waldorf summer program in Newtown.  The camp day runs from 9-3, and Discoverers (agesv3-7) is $225/week ($250/week if registering after April 15th) while Explorers (ages  8-12) is $275/week (or $300 if registering after April 15th).   Each week has a slightly different outdoor, earth-oriented theme including Summer Garden, and Water, Worms and Wonder.  
1 Jacklin Road, Newtown, CT, 06470, 203.364.1113
The Giggling Pig (Art Camp), Shelton, CT: The Giggling Pig art studio offers a half day camp from 9-12 ($125/week) and a full-day camp from 9-3 ($225/week). 
478 River Road, Shelton, CT 06484, 203.919.1153
Brunswick Academy, Greenwich, CT: All manner of sports camps are offered at Brunswick Academy this summer, including baseball, tennis, soccer and wrestling, as well as a general sports camp.  1-5 week sessions are available starting June 24th, and prices and times vary according to which camp you choose.
King Street Campus, 1252 King Street, Greenwich, CT, 06831, 203.625.5854
Greenwich Academy, Greenwich, CT: Starting June 17th, you can sign your 3-15 year old up for a variety of different camps at Greenwich Academy.  Specific camps offered are a Sports Camp, Tennis Camp, Camp Mini, and Senior Camp.  The camps are 9-3 (Camp Mini has a half day option) are cost approximately $675/week (2 week minimum).  
200 North Maple Street, Greenwich, CT, 06830, 203.869.4444