Some of Our Favorite Family Restaurants in New Haven County: Ethiopian, Ribs, Mexican, Turkish, Mac 'n Cheese and Steak!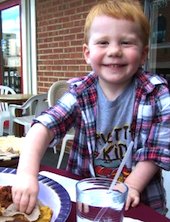 What's for dinner? Did you forget to take something out to defrost? Are you looking for any excuse to eat out tonight? I've found a few family-friendly options. Eating out with the kids need not be a stressful experience; it can be fun, and your children may even learn to love a few new foreign dishes! What more could a parent ask for?
Lalibela's Ethiopian Restaurant Ethiopian you say? Oh yes! Why? Because it's FUN! It's truly a unique experience and one that your entire family can enjoy. It is a bit pricier than the other options on this list, but well worth it - especially for a dinner capping off a nice outing at the museum or just walking around New Haven. Ethiopian is an experience, not just dinner. You will order your meal, it will come out on a large platter - communal dining at its best!  I suggest the combination platter for your first time. The staff will guide you on the spiciness or lack there of, depending on your tastes. When your platter arrives, you will not have plates, but rather you are given baskets of Injera (a large thin pancake made of Teff flour) which you break apart and use to pick up the food off the platter. The food is the consistency of stew. Some of my family favorites are Doro Wat (chicken cooked in butter and sauteed onions) and Ater Kek (yellow split peas in a mild sauce). The general rule of thumb we learned taking our children to Ethiopian restaurants:  if it isn't red, it isn't too spicy - but check with your server. Their buffet hours are Monday-Friday Noon-2pm and Saturday Noon-3pm. Dinner hours are Sunday-Thursday 5pm-10pm and Friday and Saturday 5pm – 11pm.
176 Temple Street in New Haven (203) 789-1232
Are you craving ribs? The BEST I can think of are at Maggie McFly's (Middlebury and Southbury).  They have an extensive children's menu, everything from Maggie's Mac N' Cheese to Fish and Chips! The décor is terrific for children, so much to look at! Mom and Dad have about 10 pages worth of menu to search through, so my best advice is check Maggie's Menu out online before heading in to have an idea of what you would like - that way you won't have a huge wait time with the kids.
6 Woodside Ave Middlebury, CT (203) 577-2205 and 971 Main St. South, Southbury, CT (203) 264-5700.
If you are looking for a fantastic fajita then Senor Panchos should be your first stop. The fajita isn't their only recommended dish; they also have an excellent "Table Side Guacamole" which is made at your table as you watch! This is not only a kid pleaser, but Mom and Dad will think its pretty cool, too! The kids will LOVE this! The kids menu contains dishes such as hamburgers and chicken fingers, as well as tacos and burritos. Their hours are Monday - Sunday: 11:30 - 10pm. My husband and I have even taken out our favorite Mexican meal when we couldn't eat in due to a temperamental toddler who skipped nap time.
385 Main Street South Southbury, CT (203) 262-6988
Sultan's Turkish Restaurant has amazing food!  Their children's menu contains American favorites like macaroni and cheese, but also Chicken Shish and kid's Doner (meat cooked on a vertical spit) so your adventurous children can feel like a world traveler. Their Sultan's Mixed Grill can't be beat for the adults in your party! My family has also taken out from here. The décor is warm and inviting. Call for current hours.   
586 Plank Rd. in Waterbury, CT (203) 591-8450
Rolando's in Oxford's specials are Early Bird Specials 4-7pm, $7 Pasta Night on Monday, Tuesday is Chicken Night for $10, and Wednesday night is fish night for $14.  On Thursdays (if you can get a sitter) it is dinner for two with a bottle of wine for $30!  Friday is Seafood night for $15, and Saturday is Steak night. Rolando's also carries gluten-free pasta and pizza, for those with an intolerance to gluten. The restaurant is open for dinner 7 days per week. Lunch is Monday-Saturday Noon-3pm.
143 Oxford Rd. Oxford, CT (203) 881-0777