Places to Volunteer with Kids in Eastern CT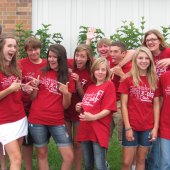 From a very young age, I learned that some of the most rewarding experiences come as a result of doing for other people.  More specifically, giving your time or energy to a project or cause without expecting anything in return.  Since my parents instilled this valuable bit of life knowledge in me at a young age, I wanted to do the same with my kids.  It's paid off for the folks we've helped and for our little family ten-fold.  Not sure where you can donate your time with the kiddos?  There's a few places in need right in Eastern CT. And if you are looking for opportunities in Hartford, Fairfield, or Litchfield Counties we have that covered too.
Habitat for Humanity - Kids as young as 5 may participate in volunteer programs with Habitat for Humanity!  Through their Youth United group, kids can help by raising money, hosting events that promote ways Habitat for Humanity helps in communities or, for slightly older kids, actually help build a house for a deserving family!  
Habitat for Humanity of Southeastern CT 377 Broad Street, New London, CT 860.442.7890
Gemma Moran Food Bank - The Gemma Moran United Way food bank feeds 20,000 residents of New London county each month, and is almost completely run by volunteers.  Kids can volunteer, with a qualifying adult and under close supervision, at the food bank doing a variety of different jobs.  For more information on volunteering, contact Maureen LeBlanc at 860.444.8050.
First Congregational Church of New London - Each weekday morning, the church fires up the kitchen and serves a hot, hearty breakfast to the homeless in the city.  While kids must volunteer alongside an adult, they're welcome to participate in this successful program.  
FCCNL 66 Union Street, New London, CT 860.443.8409 
There are a variety of nursing homes in the area that are always welcoming of young people to spend time with their residents.  Beechwood Rehab and Nursing center in New London, Stoneridge in Mystic, or Norwichtown Rehab Center in Norwich.  
Save Ocean Beach - SOB is a non-profit organization aimed at preserving Ocean Beach Park in New London, and holds a variety of clean up days and other events to benefit the park.  Kid volunteers, with the help of a parent, are always welcome.  
Save Ocean Beach, 860.447.3031 ext 132