Our Favorite Indoor Play Spaces in Fairfield County, CT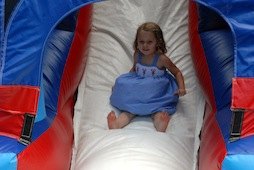 Crazy Christmas?  Check.  Germ-infested New Year's?  Check.  Everyone back to school?  Check (phew). Kids climbing the walls with the January jitters?  Check.  Time to get this family out of the house!  We'll be revisiting some of our favorite Fairfield County indoor playspaces from last year, and adding a few more new ones to the list this year as well.   Hope to see you there! For even more indoor fun check out our Connecticut Indoor Play Guide.
Chelsea Piers, Stamford, CT
With zones and activities for all ages, Chelsea Piers is a huge hit with my kids.  Drop in activities include water play in the Splash Zone, trampolining and rock climbing in the Adventure Room, field play and ice-skating.  Pricing and membership options vary, so check their website for information. 
One Blachley Road, Stamford, CT, 06902, 203.989.1000. 
Sono Field House, South Norwalk, CT 
Visit Sono Field House to try your hand at rock climbing.  Open sessions are Mondays, Wednesdays and Thursdays between 4pm and 9pm.  Sessions are $15 each, and staff members are there to advise and assist with the ropes.  My 5 year old loved this!  
365 Dr. Martin Luther King Jr. Drive, Norwalk, CT, 06854, 203.604.9030
Kids U, Norwalk, CT and Stamford, CT

Kids U has climbing structures, bouncy slides, and swings.  Passes are available (5 time pass is $50, 10 visit pass is $90) for drop in play.  
507 Westport Avenue, Norwalk, CT 06851 203.847.2085 or 633 Hope Street, Stamford, CT 06907 203.358.9500
Sports Center of CT, Shelton, CT 
Shelton's Sport Center offers a driving range, laser tag, batting cages, and ice skating.  Check their website for a full description of schedules and pricing. 
784 River Road, Shelton, CT, 06484, 203.929.6500
Yanity Gym, Ridgefield 

Pre-schoolers are welcome at open gym time in the Yanity Gymnasium.  No supervision is provided – this is an open space for parents and kids to enjoy together.  $60 will get you a season pass (good through June), and the gym is typically open for pre-school play Mondays and Wednesdays from 9am-3pm, and Tuesdays, Thursdays, and Fridays from 9am – 1pm.  Call ahead as they will occasionally be closed for a birthday party or other private event.  The gym is part of the town of Ridgefield's recreation department, though you do not need to be a Ridgefield resident to use it. 
195 Danbury Road, Ridgefield, CT 06877 203.431.2755
Tumble Jungle, Norwalk, CT With mats, inflatables, and plenty of space to run around, your younger kids will enjoy some time at Tumble Jungle in Norwalk.  In addition to scheduled classes for which you can register, they also off their drop-in "Monkey Time" sessions.  $135 will get you a package of 9 drop-in sessions (drop-in sessions are 1 hour each). 
250 Westport Avenue, Norwalk, CT, 06851, 203.286.4608
Bounce U, Stratford, CT 

Sign up for one of Bounce U's drop in sessions for $12/child. The climbing nets, bounce structures, and interactive inflatables can be enjoyed by those 3 and up. 
305 Hathaway Drive, Stratford, CT 06615 203. 375.2700 
Pump it Up, Norwalk, CT 
If your crew like inflatables, Pump it Up has large bouncy structures, slides, and playspace. Pop in playtime rates are $12/child. 
145 Main Street, Norwalk, CT 06851 203.838.5867 
Fun Factor, Brookfield, CT

Obstacle courses, slides, and bouncy structures all available at Brookfield's Fun Factor.  The admission fee is typically $11/child; check their website for promotions and discounts. Designed for children 2 and up. 
1106 Federal Road, Brookfield, CT 06804 203.546.8470