Mostly Free and Fun Things To Do With Kids In CT This Easter Weekend April 19-20: Egg Hunts, Bunny Trains and Spring Hikes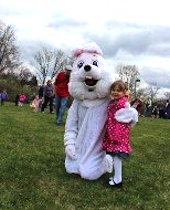 All of us here at Mommy Poppins CT wish our amazing readers Happy Easter, Happy Passover and Happy Spring!
This is an exciting time of year to get out and enjoy the season after a long, long winter. For the best egg hunts and bunny sightings, be sure to read our guides on Easter events in Central CT, Fairfield County and Litchfield County. 
Gone are the days of the Paas boxes being the only way to color eggs. If you want to stay away from chemicals and artificial colors, check out our post on Dyeing Easter Eggs Naturally With Fruit, Vegetables and Spices.  You'll also want to view our No Mess Easter Egg Decorating, and Tie Dye Easter Eggs for Pre-Schoolers articles to make this rite of spring more enjoyable. 
It is almost outdoor Farmers Market season in our great state, and we've done the research to help you find CT Markets and Stands Kids Will Love.  There are several to choose from in every county. 
Subscribe to our weekly newsletter and be sure to get the weekend round up every Thursday in your inbox. Don't forget to follow us on Twitter and Pinterest in order to get updates on events, contests and free giveaways. Our event calendar is updated constantly with the best activities around the state.
Here are some suggestions for the weekend! 
All Weekend 
Spring Osprey Eagle Cruises in Haddam (Central CT) 
This special cruise departs from Eagle Landing State Park in Haddam. You'll navigate down the CT River where you'll see ospreys and eagles and their nests, and learn about other wildlife. You'll also pass beautiful landmarks such as the Gillette Castle. 10 and up. 
$40 per person. Runs weekends through April 27. 
Easter Jump-N-Egg Hunt in Norwalk (Fairfield County) 
Pump it Up bounce center hosts this four-day celebration with bounce time, special egg hunts, photos with the Easter Bunny, take-home crafts, and more. No reservations needed. 
$12 in advance; $15 at the door; adults - free. 
A Bunny's Tale: The Mishaps of Miss Hops in Bridgeport (Fairfield County) 
The Bijou Theater is putting on a springtime, Easter musical full of magic for all ages. Miss Hops will meet many friends along her adventure, including Peter Cottontail and the Big Bad Wolf. Don't miss out on the fun! 
Adults - $5; children - $15
Visit Ana Grace's New Playground at Elizabeth Park (Hartford County) 
"The Sandy Ground: Where Angels Play" project is building 26 public playgrounds in honor of each Sandy Hook shooting victim. The newest addition opened recently at Hartford's Elizabeth Park at 99 Elizabeth Street. It is a purple, music-themed playground in honor of Ana Grace Marquez-Greene, featuring her favorite things. There are also parts of the playscape designed with her art work, and a memorial plaque with her photo. Bring Kleenex; It is a wonderful way to remember her and the other victims, but probably the most emotional you will ever be at the park.  
Free. 
Saturday, April 19
Day Out with Thomas the Tank Engine at Essex Steam Train (Eastern CT) 
Your kids will get a thrill when they board Thomas the Tank Engine. In addition to the ride, they'll provide plenty of entertainment including arts and crafts, storytelling, tattoos and meeting characters from the Thomas and Friends books. 
$23 per person. Also runs April 26-27 and May 3-4.
Hecksher Farm Egg Hunt and Excellent Eggs in Stamford (Fairfield County) 
Hundreds of eggs will be hidden all over the farm so bring your own baskets and see how many you can find, and then get a fun goody bag. Hunt is for only ages 6 and under. Afterwards, head over to Overbrook Nature Center to learn about spring eggs and meet some live animals. There will also be a craft center available. 
$5 per family for egg hunt; Nature Center program is free. 
Glastonbury Youth Fishing Derby (Hartford County)
Ages 4-15 can compete for prizes in a morning of fishing at JB Williams Pond.  There are separate age groups and prizes given every 15 minutes. Maybe your child will be the one to catch the most, the biggest or the smallest. No registration needed. 
Free.  
Easter Bunny Fun Day at CT Trolley Museum in East Windsor (Hartford County) 
The Easter Bunny will be greeting guests at this event guaranteed to bring many smiles. You can take a ride on an antique trolley car, check out the train and bubble tables, make an Easter egg craft, get your face painted and and more! The museum is holding a photo contest with the winner receiving a free membership, so bring your cameras and take your shot at the best spring and Easter photos. 
Adults - $9; kids - $8; under two- $3
Families Cook on the Farm at Common Ground (New Haven County)
This is a wonderful farm to table experience for the entire family. You will collect eggs from the farm's chickens, harvest vegetables, and then cook a brunch to enjoy. This educational experience is open to all ages, but please call ahead to reserve a spot as space is limited. 
$8 per person. 
Sunday, April 20 
Easter Brunch at Water's Edge in Westbrook (Central CT) 
Easter Brunch can be expensive, but this CT favorite offers a free meal for kids 5 and under. The elaborate spread includes raw bar, breakfast bar, pasta bar, dessert station and more. Plus, the Easter Bunny will be around all day! This beautiful, waterfront resort is the perfect place to spend part of Easter Sunday. 
Adults - $39.50; children under 10 - $22; children under 5 - free. 
Third Sunday Walks at Pomfret Audubon Society (Eastern CT) 
This guided walk is for all ages and will give you some family outdoor bonding time. You'll enjoy the scenery and learn about animal tracking along the way. You are welcome to bring cameras or binoculars. 
Members - free; non-members - $5
Easter Egg Hunt and Celebration at Conard High School (Hartford County) 
Calvary Fellowship hosts this celebration at Conard High in West Hartford. There will be two one-hour services at 830am and 1130am and then a free egg hunt after each service. Please register for the hunt 30 minutes before the service. This is a community event and everyone is welcome. 
Free. 
For more ideas, don't forget to check our events calendar often! To get the most out of the site, be sure to follow us on Facebook (make sure Mommy Poppins CT shows up on your feed by including us in your "interests list." To put a page on your "interests list," hover over the "Like" button and you'll see a pull-down menu that offers an "add to your interests lists" choice).