Mostly Free and Fun Things to do With Kids in CT Thanksgiving Weekend: Reindeer, Skating and Turkey Trots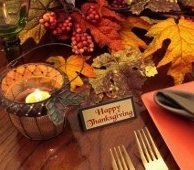 Thanksgiving is the only holiday that I don't host at my home for our extended family.  This makes it the most laid back of holidays in my household.  Instead of spending hours cooking and cleaning the house I get to simply enjoy spending time with my husband and children. During dinner we like to go around the table and state what we are grateful for. It's a nice family tradition that brings gratitude to the forefront. Speaking of gratitude, we here at Mommy Poppins CT would like our readers and sponsors to know that we are grateful for all of your support for our site. We strive to provide great content for you each week that in turn helps you to create wonderful experiences with your families. This weekend is no exception...
If you aren't hosting turkey day this year read our ideas of Things To Do On Thanksgiving Day in Fairfield County to help you fill your morning before heading to a relative's house to celebrate.  One great way to spend the morning is to burn off some some pre-feast calories by running in a Turkey Trot.  Rowayton, Branford and Madison are just a few Connecticut towns offering a family friendly walk or run. On Saturday you can work off your holiday meal while enjoying a family hike and learning about how nature is preparing for winter at the New Canaan Nature Center's Thanksgiving Weekend Waddle.
Take time to relax the day after Thanksgiving with a free Family Movie at the Gunn Memorial Library in Washington.
Families can enjoy free ice skating after the Winterfest ribbon cutting ceremony in Hartford on Friday.  The rink will offer free outdoor skating and skate rentals through January 21st.
Santa and his reindeer will take a trip down Greenwich Avenue for the opening day of the Greenwich Reindeer Festival.  Children can visit with Santa and see live reindeer beginning on Friday until the reindeer return to the North Pole on December 23rd to prepare for their Christams Eve flight.
The Elf on the Shelf will be entering the homes of many families Thanksgiving night causing mischief and delighting children as they count down the days until Christmas. At Giant Steps toy store in Fairfield, families can Meet the Author of Elf on the Shelf and attend a special reading and book signing of this popular children's book. 
Listen to traditional Native American Stories and make a craft project at the Institute For American Indian Studies in Washington on Saturday afternoon.
When you are out doing your holiday shopping this weekend, consider shopping at small businesses to support the local economy.  We have a list of local shops that have a great selection of gifts in our post about Small Business Saturday in Litchfield County. 
This weekend marks the official countdown to Christmas.  One of my favorite things about this season is driving around to look at all of the beautiful decorative displays.  In New Haven treat your family to the Festival of Lights.  This event has become a holiday season tradition for thousands of families from all over the Northeast.  For only ten dollars per car your family can view over 60 holiday light displays.
Visit our event calendar and follow us on Facebook, Twitter and Pinterest for additional information and activity ideas.
We wish you all a very Happy Thanksgiving with your family and friends.