Things to do in CT with Kids This Veteran's Day Weekend, November 10-12: Puppets, Storytelling and Saluting Our Veterans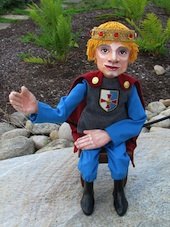 In November many of us reflect upon the things that we are thankful for.  Always topping my list are my children, husband, family and friends.  This year, more than ever, I am thankful for things we sometimes take for granted. Electricity, running water, plentiful food, my home, warm clothing and an overall sense of safety and security.  In the wake of Hurricane Sandy there are many who have lost these things.  The stories about those affected offer reminders of how lucky my family is and has provided opportunities for me to help my children understand how fortunate they are, to teach them about gratitude and to instill in them the importance of helping others.  At the young ages of 4 and 7, they were able to help  make brown bag lunches this weekend to be delivered to those in New York affected by the storm.
If you are wondering how your family can help those affected by Hurricane Sandy, many local organizations are collecting donations.  Once Upon A Child in Danbury is collecting baby items, first aid supplies and other items.  Mommy Poppins CT has organized a donation drive at Three Monkeys and Me in Kent. We are collecting diapers, non--perishable food, blankets, camping items, flashlights/batteries and coats for delivery this Sunday.  Visit the links for a complete list of items and drop off instructions.  The American Red Cross is accepting monetary donations on their website and blood donations at the Fairfield County Blood Donation Center.  The Connecticut Food Bank has launched a "Hurricane Sandy Virtual Food Drive" to respond to the rapidly growing need for food donations. 
Thanksgiving is just around the corner. Read our post on Thanksgiving Activities in Fairfield County for fun activities as well as volunteer opportunities for your family. 
This weekend, Tellebration 2012, an International Storytelling celebration has events taking place throughout Connecticut this weekend and next and most of them are free.  Visit the website to find a family friendly storytelling event in your area.
The Frog Prince and Other Tales, a unique puppet show debuts for a limited engagement at Stepping Stones Children's Museum on Saturday and runs throughout the week.
Learn about the New Haven Railroad at the NHRHTA 50th Anniversary and Train Show in Stamford.  The event features model trains, railroad merchandise, memorabilia and more.
The New Canaan Nature Center hosts a free Open House of their World of Bees Exhibit with fun and information for the entire family.
Enjoy a free visit to the Wadsworth Antheneum Museum of Art in Hartford on Saturday.
A Children's Book Fair takes place this weekend at UCONN where prominent children's authors and illustrators come together with the public to foster an appreciation of children's literature.
Learn about gravity and astronomy at Second Saturday Stars, a free family friendly event at the MCCarthy Observatory in New Milford. 
On Sunday, the Institute for American Indian Studies offers a free Veteran's Day Celebration honoring all veterans including Native American Veterans who have served our country with pride.
Most students around the state have Monday off from school in observance of Veteran's Day. Consider bringing the kids to the Veteran's Day Family Scavenger Hunt at the Fairfield Museum and Historical Society or a to a storytime at the Roaring Brook Nature Center.
Visit our event calendar for activities every day of the week.  Stay up to date on events and giveaways by liking us on Facebook and following us on Twitter and Pinterest. 
Have a wonderful weekend with your family! It's forecast to be sunny and relatively warm. A welcome change for all of us!