Mostly Free and Fun Things to do in CT With Kids This Weekend: February 23-24: Winterfest, Walk CT, Pink Party and Purim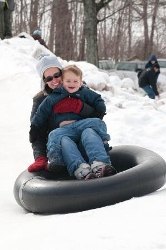 Two weeks ago, I went to sign my son up for the same summer camp he did last year, but was shocked to find out it was already full. I am usually a good planner, but some of the most popular and inexpensive camps are in such high demand. Don't let my mistake happen to you! Check out our comprehensive CT Summer Camp Guide and start scheduling your summer. 
If the thought of warmer days has you dreaming of lush green grass and bright flowers, head down to the CT Flower and Garden Show this weekend in Hartford. Get ideas for your garden, enjoy floral arranging demonstrations and let your kids practice planting seeds. 
Stepping Stones in Norwalk is calling all princesses and princes to the Winter Wonderland Children's Ball. The little ones will love getting dressed up for a magical evening out making crafts and learning dance moves.  Wear your favorite pink outfit and head to Farmington's Hill-Stead Museum for the Pink Party on Sunday. The event celebrates French artist Edgar Degas' work, and will be highlighted with a performance from the Albano Ballet dancers. 
The Jewish festival of Purim is this weekend, and kids can dress in costume, enjoy games, crafts and face painting at the JCC of Greater New Haven's Carnival.  The Mandell JCC in West Hartford holds a concert with Mama Doni along with crafts and "The Purim Superhero" book launch party. 
Saturday, the African-American History Celebration takes place at Bridgeport's Discovery Museum. Storytelling, poetry readings, live dance and Jazz performances, planetarium shows, food samples and more are a part of this free cultural heritage event. The Bruce Museum's Dinosaurs Family Day features a gallery hunt, crafts, and a special music show guaranteed to delight all ages who enjoy learning about colossal creatures. 
If you are feeling cooped up from the cold, there are plenty of outdoor activities this weekend. Enjoy snowboarding, snow tubing, dog sled and horse-drawn carriage rides, ice carving and more at Lyman Orchards' Winterfest.  Old Mistick Village hosts the Cabin Fever Festival and Charity Chowder Cook-Off . Over 25 restaurants will warm your belly with different types of chowder. Also, there are free activities for all ages including live music, animal demonstrations and more. 
Wear your favorite wide-brimmed hat for Wild West Day at Ski Sundown in New Hartford. Cowboy Games and lasso throwing will appeal to all ages. If the slopes aren't your thing but you want to get some fresh air and exercise, check out the free Walk CT Family Ramble Events at Cheney Railroad Trail in Manchester and Westwoods in Guilford. 
We add activities to our events calendar  daily, so be sure to check it often.  Like us on Facebook and follow us on Pinterest and Twitter for updates and giveaways.
Have a wonderful weekend!