Mostly Free and Fun Things to do in CT With Kids This Weekend February 2-3: Groundhogs, Puppets and Library Day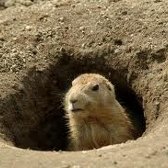 February may be the shortest month of the year, but sometimes it sure does feel like the longest.  The holidays are over, the snow's novelty has worn off and we're left with cold winter days, dark evenings and sometimes I'm tempted to hibernate inside my house until spring.  Kids will be anxiously awaiting the Groundhog's prediction this weekend to see if his shadow tells us to expect an early spring or six more weeks of winter.  But regardless of what that little guy predicts, we've got some great ideas to get you out of the house and enjoying yourself this weekend. 
Visit Earthplace in Westport for a special Groundhog's Day Presentation where you can learn about where groundhogs live, what they eat and what the deal is with their shadow.   Take a Groundhog Day Hike at the Roaring Brook Nature Center in Canton or if you've got some early risers in your family, you can head to the Groundhog Day Festivities at the Lutz Children's Museum in Manchester to watch Connecticut's own groundhog make its prediction shortly before 7am. 
I have great memories of visiting the library as a kid.  Our local libraries are such a terrific resource.  We regularly use ours to borrow books, dvds, free passes to local museums and participate in wonderful story and art programs throughout the year.  This Saturday participating libraries all around Connecticut are encouraging families to Take Your Child To The Library and participate in free special events throughout the day.
A Day of Healing for Newtown will take place in Warren on Saturday.  This community event gives families a chance to participate in boot camp and yoga classes, make crafts, hula hoop, have a tarot card reading and enjoy refreshments.  The event is free and donations will be accepted to benefit the families in Sandy Hook.
The 7th Annual Puppetry Festival at Washington Montessori School continues this weekend with a performance by Crabgrass Puppets of "The Lion, The Mouse & Other Tales".
The Big Y Kids Fair in Hartford offers one stop shopping for the latest products and services as well as entertainment for the whole family.  Celebrity appearances, a petting zoo, pony rides, magicians and free product samples are just some of the great things featured at this event. 
Start off your Superbowl Sunday with a trip to Chowda Fest at Webster Bank Arena in Bridgeport.  More than 10,000 chowder and soup loving fans are expected to come out and set a record donation to the Connecticut Food bank while sampling chowder, soup and bisque from award winning CT restaurants.  Kids can get in on the fun by visiting their Kids Cove area for crafts, tattoos and more. 
Create your own valentines inspired by valentines from long ago at Valentine's For Kids at the Connecticut Historical Society in Hartford.  This free program is great for all ages and participants may bring their own materials or use those that are provided.  The For Your Valentine Family Program at New Haven Museum is a free one hour workshop where children will learn about the valentines in the museum's collection and make one of their own. 
This week we wrote about Indoor Playspaces in New Haven County, Places to Ice Fish and See Eagles in Hartford County and Where to Celebrate Chinese New Year in Hartford County.
Get a jump start on planning your month with the family and visit our list of the Best Things to Do in Connecticut for February, a Top Ten list we've created to highlight some of the great things happening in CT this month.  Our CT Winter Fun Guide is a terrific resource full of fun things to do with the kids during these cold months. Our event calendar has event listings for every day of the week, so be sure to check it often.  Like us on Facebook and follow us on Pinterest and Twitter for updates, giveaways and more.
Have a fun filled February weekend with your family.