Mostly Free and Fun Things to do in CT With Kids This Weekend: February 16-17: Chocolate, Skating and President's Day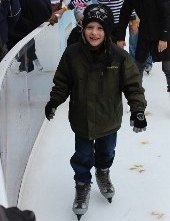 Students throughout the state have been home for days due to Winter Storm Nemo and now, many are about to begin their February break.  It seems like the kids will spend more time home than in school this month.  After enjoying several cozy snow days occupied by books, videos and board games I know I'll be taking advantage of some of the great events going on in the coming days for some family fun outside of the house. Our posts on Winter Break Activities in Fairfield and Hartford Counties are a good place to start as you plan your long weekend. 
On Valentine's Day the Maritime Aquarium in Norwalk welcomes a group of African Penguins for a special two month exhibit.  The Penguin Exhibit is free with aquarium admission and there are opportunities to attend limited availability feeding times through February 24th for visitors age 8 and over for an additional fee (advance reservations required).
The Mystic Aquarium kicks off a week of Weird Science on Saturday with Bubbleology, where guests can explore the world of bubbles.
It's  President's "Rock" Weekend at The Dinosaur Place in Oakdale.  Families will enjoy free activities all weekend long that include balloon twisting and scavenger hunts in addition to the regular paid activities available. 
Indulge your sweet tooth at the free Romantic Willimantic Chocolate Festival.  The event is kicked off with the Cupid's Road Race followed by sampling of chocolate goodies as thirty businesses open their doors along the Main Street Chocolate Chip Stroll. 
If you can use an afternoon escape from winter head to the Wintertime Summerfest at the Gunn Memorial Library in Washington.  Lay on a beach blanket while listening to live music and play some beach ball while momentarally forgetting about the snow around you.
Dress warmly for the Chester Winter Carnivale on Sunday.  Enjoy free face painting, street performers, ice carving, a tractor parade, chili cook off and more. 
You can take your family ice skating on Sunday at the KML Skating Party while helping to raise funds for the Kent Memorial Library Children's Programs. 
Celebrate President's Day on Monday at the Fairfield Museum and Historical Society.  There will be Drop In Activities throughout the day and in the afternoon a Tea With Abraham Lincoln and Mary where visitors can ask questions of actors portraying the 16th President of the United States and his wife.
We add activities to our events calendar every day, so be sure to check it often.  Like us on Facebook and follow us on Pinterest and Twitter for updates and giveaways. 
Enjoy the long weekend with your family.