Mostly Free and Fun Things to do in CT with Kids This Weekend December 1-2: Tree Lightings, Santas, Gingerbread and Gifts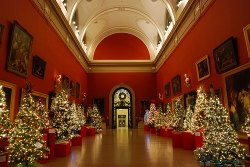 Are yours real or fake? In my house, real.
Most Americans prefer the real thing too. Over 30 million live Christmas trees were purchased last year. This is three times more than fake ones, according to a National Christmas Tree Association/Harris Interactive poll. In the 1930's, the Addish Brush Company created the modern-day artificial variety, based on the toilet brushes they manufactured. That image makes me pine for the real thing. 
Connecticut has many farms where you can cut your own or buy pre-cut trees. We've done the homework, so check out our posts on Christmas Tree Farms in Hartford County, Fairfield County and Litchfield County.
You'll also want to read our story on Nutcracker Ballet Performances in Fairfield County. It is hard to keep track of all the family-friendly happenings during this season, so make sure you look at our events calendar daily. 
Come experience uniquely decorated trees and decorations at the Wadsworth Atheneum's Festival of Trees. This 39-year tradition features live music, crafts and activities for all ages. You will be amazed by the beauty as you stroll through large atriums of trees with different themes. However, I will offer this word of advice; if you have a young child and don't want to spend your day repeating "don't touch," you might save it for another year. My son was four when I brought him, and the temptation to touch everything got him reprimanded by staff. 
Burr Homestead is transformed into a holiday wonderland at the Fairfield Christmas Tree Festival . Elegant decor, homemade gifts such as wreaths and trees, children's events such as photos with Santa, and a gala for adults are a few of the highlights. For 31 years, this event has raised over three million dollars for local charities. This year will benefit the Cardinal Shehan Center and Norma F. Pfriem Breast Care Center.
Next door to Burr, you won't want to miss the 55th Annual St. Nicholas Fair at St. Paul's Episcopal Church. The shopping boutique includes items such as greenery, gift baskets, ornaments and baked goods. A holiday luncheon complete with singing waiters will delight the entire family, as will St. Nick handing out chocolate coins for well-behaved boys and girls. Children can also make crafts and buy small gifts. 
Daredevil Santa makes a memorable entrance as he rappels from the top of Landmark Square in Stanford as part of the Heights and Lights Festival. Enjoy music as the crowd anticipates the annual tree lighting. 
The New Canaan tree will also come to life during their Holiday Stroll. Santa, live entertainment, and shopping round out the fun. Unique crafts and gifts will be on sale during the Hill-Stead Holiday Boutique in Farmington. Vising this beautiful, historic venue beats braving the mall. 
Plenty of other tree lightings this weekend including The Litchfield Inn, that features a holiday sing and dinner. At Kent's Tree Lighting you can take photos with Santa and enjoy cookies with caroling.
If you don't celebrate Christmas, your children will love Kids Fun Night at the Stamford JCC. From pre-K through 8th grade, there is something for everyone such as games and cooking. 
Ride the North Pole Railway, take pictures with Santa and enjoy a festive atmosphere at Lake Compounce's Holiday Lights in Bristol. This festival runs through December 28. If you would rather stay in the warmth of your vehicle, you can drive through Hartford's Goodwin Park for two miles of magical displays. If you want to get in for free, you can purchase a fresh, pre-cut Christmas tree on site! 
Mystic Lantern Light Tours will transport you and your family back to Christmas Eve, 1876. Strolling through the maritime village, you'll enjoy treats, tunes and dancing guided by lanterns. 
Creating gingerbread houses is always a hit! Visit workshops at Gunn Memorial Library in Washington and the Noah Webster House in West Hartford. South Windsor's Wood Memorial Library has one of the largest displays in New England at their Gingerbread House Festival. You'll be amazed at the creativity, and even get some ideas for your own house. 
Drop on by the CT Historical in Hartford and make your own holiday poppers (aka crackers). They are great gifts or party favors for any occasion, and this family event is free on Saturday.   
Donate mittens, hats and scarves for The Town That Cares Fund at Blue Back Square's Mitten Run in West Hartford. There will be a 5K run/walk and a kids run, followed by refreshments and merriment. This is a very low-key event, so if you have ever wanted to do a race but felt intimidated, give it a shot! 
Don't like to run? How about a swim? Join other ambitious children and adults by taking the chilly Polar Plunge in Lake Waramaug. The fundraiser benefits the Washington Montessori School Community Partnership Program, helping fund a scholarship program for CCS of Waterbury graduates.
Check out our events calendar and don't forget to "like" us on Facebook and follow us on Twitter and Pinterest for free giveaways and other fun! 
Have a wonderful December weekend!